Ouvrages renforcés par géotextiles chargés en tête : comportement et dimensionnement
The use of geotextiles to reinforce soils has enabled this technique to be adopted for a wide variety of applications, where economical solutions can be reached for permanent earth retaining structures. The technique of geotextiles reinforced soils can be extended, from technical and practical points of view, to earth structures used as bridge abutment. However the behaviour of such structures, particularly the behaviour at failure remained up to now relatively unknown. In this thesis work, the behaviour of a non woven geotextile reinforced full scale test wall with numerous measuring elements was studied. The test wall was loaded to failure under incremental vertical loading applied on top. Thereafter a parametric study of the loading on top was achieved with five model test walls in the centrifuge to collect more informations concerning the behaviour at failure. The measurement results obtained during the construction and the loading to failure of the full scale test wall and during the parametric study with the model walls on centrifuge gave a better understanding of the behaviour of such structures and have shown that it is possible to analyse correctly the observed behaviour during the tests on the basis of common calculations at limit equilibrium.
La technique de renforcement des sols par des géosynthétiques permet, par l'utilisation d'un matériau d'apport de caractéristiques moyennes et le choix d'une géométrie appropriée, la réalisation d'ouvrages en terre à caractère définitif économiques. L'application de la technique de renforcement des sols par géosynthétiques pour la conception des culées de ponts est pour sa part sûrement envisageable du point de vue technique et pratique. Toutefois, le comportement de tels ouvrages, surtout leur comportement à la rupture, est encore mal défini. Dans ce mémoire, on s'est plus spécifiquement intéressé au comportement d'un massif de sol renforcé par des nappes d'un non tissé, dans lequel une instrumentation complexe a été appliquée. L'ouvrage a été soumis à un chargement vertical concentré en tête jusqu'à la rupture. Une étude paramétrique du chargement en tête a été ensuite réalisée sur cinq modèles réduits en centrifugeuse, pour approfondir l'étude du comportement à la rupture. La première partie du mémoire présente brièvement les géotextiles actuels et leurs techniques d'utilisation en géotechnique, ainsi que les méthodes de dimensionnement des ouvrages renforcés par géotextiles. La seconde partie expose toutes les informations et les principaux résultats des études expérimentales. La troisième partie regroupe les analyses des comportements observés et propose une méthodologie de dimensionnement pour les ouvrages renforcés par géotextiles chargés en tête. Les résultats des mesures faites au cours de la mise en oeuvre et du chargement à la rupture de l'ouvrage en vraie grandeur, ainsi que l'étude paramétrique du chargement en tête sur les modèles réduits, ont permis de mieux comprendre le comportement de tels ouvrages et de montrer qu'il est possible de décrire de façon satisfaisante les comportements observés par des calculs classiques à l'équilibre limite.
Fichier principal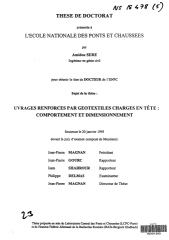 1995TH_SERE_A_NS18478.pdf (19.02 Mo)
Télécharger le fichier
Origin : Files produced by the author(s)