Résistance au choc des structures en béton : du comportement du matériau au calcul des ouvrages
The present thesis may be considered as a first step to control the shock strength of concrete structures. It has contributed to developping the knowledge about the material dynamic behaviour in order to improve the design of structures against accidental loadings. In a first part the physical mechanisms that were pointed out by direct tensile tests, at gradual strain rates from the quasi-static regime up to the domain of hard shocks (Hopkinson Bars technique) are listed. Several expressions of the strength evolution versus the strain rate are proposed, accounting for the influence of characteristic material parameters. An optimization of the concrete mix-design regarding high rate loadings has been considered. In a second part the shock tube test of concrete slabs is described. This testing process was developped in order to validate at the level of an ideal structure the results that had been obtained at the material level. Data recorded on 24 slabs constituted of different reinforced or unreinforced concretes are presented in details. Analyzing such data allows checking different approximated design methods, and defining the absolute requirements of more sophisticated dynamic computational modellings, that are still to be processed.
Cette thèse s'inscrit comme une étape vers la maîtrise de la résistance au choc des structures en béton, en développant la connaissance du comportement dynamique du matériau pour mieux calculer les ouvrages vis-à-vis des chargements accidentels. Une première partie récapitule les mécanismes physiques mis en évidence grâce aux essais de traction directe à des vitesses échelonnées du régime quasi-statique au domaine atteint lors des chocs durs (technique des barres d'Hopkinson), et propose plusieurs expressions de l'évolution de la résistance avec la vitesse, en fonction des paramètres caractéristiques du matériau. On a pu en déduire une optimisation du béton par rapport aux sollicitations dynamiques rapides. Une deuxième partie décrit l'essai de dalles au tube à choc, mis au point pour valider sur une structure modèle les résultats obtenus à l'échelle du matériau. Les données recueillies sur 24 dalles constituées de différents bétons, armés ou non, sont présentées en détails. Leur analyse permet de tester plusieurs méthodes de calcul approchées, et de définir un cahier des charges incontournable pour des modèles de calcul en dynamique plus sophistiqués, qui restent à développer.
Fichier principal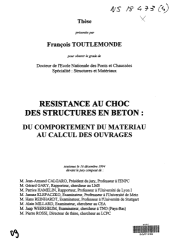 1994TH_TOUTLEMONDE_F_NS18473.pdf (34.32 Mo)
Télécharger le fichier
Origin : Files produced by the author(s)