Déformations instantanées et différées des bétons à hautes performances
This thesis proposes two types of modelling, together with a long series of experimental data, for the instantaneous and time-dependent strains of high performance concrete. The first model deals with instantaneous, autogenous shrinkage and basic creep deformations of high performance concrete with respect to mix-design parameters. To this end, a homogenization approach based on Hashin's spheres model for the modulus, is adopted and modified to take into account the effective maximum packing density of the aggregates. This leads to a three-sphere model. After justification, the Poisson's ratio of each phase is set at a constant value of 0,2. This model is consequently applied to calculate the long-term amplitude of autogenous shrinkage and basic creep. The creep results obtained are compared with visco-elastic calculation, which allows the adopted approach to be confirm. The main mix-design parameters are taken into account (water/cement ratio, silica fume/cement ratio, aggregate concentration, maximum packing density of the agrégate, cement strength). The second research part deals with a simplified model for design code purposes. It allows the calculation of high performance concrete strains as a function of time, and a limited number of parameters. In particular It accounts for the self-dessication, the maturity and the strength of the concrete at the loading time. This model was validated against extensive experimental data, covering the marurity range from sixteen hours to two years. The model was established within the framework of the French Structures and Materials Research Association (AFREM), and is proposed in addition to the French Prestressed Concrete French Code (BPEL), for concrete covering the strength range from 40 to 80 Mega-Pascals.
On présente ici deux types de modélisations, ainsi que de nombreuses données expérimentales, portant sur les déformations des bétons et en particulier celles des bétons à hautes performances. La première a pour but de prévoir les amplitudes des déformations instantanées, de retrait endogène et de fluage propre, en fonction de la formulation. On utilise pour cela une approche par homogénéisation, en adaptant le modèle bisphère de Hashin au calcul du module du béton. La démarche de modélisation, fondée sur la prise en compte de la compacité réelle du squelette granulaire, aboutit à une géométrie trisphère. On fait le choix, après l'avoir justifié, de fixer les coefficients de Poisson à un cinquième. Puis, on applique le modèle trisphère au calcul des amplitudes de fluage propre et de retrait endogène. Les paramètres principaux de formulation (rapports eau sur ciment, fumée de silice sur ciment, proportion granulaire, classe du ciment) sont pris en compte. L'approche appliquée au fluage est confortée par un calcul viscoélastique linéaire. Dans la deuxième approche, on propose un modèle simplifié, de type réglementaire, pour le calcul des déformations des bétons à hautes performances en fonction du temps, et d'un nombre Limité de paramètres. Les apports principaux de la modélisation concernent la prise en compte de l'autodessiccation, de la maturité et de la résistance du matériau au moment du chargement. Le modèle a été validé d'après de nombreuses données, et pour des bétons de maturités très variables au chargement, variant de seize heures à plus de deux ans. Elaboré dans le cadre de l'Association Française pour le Recherche et l'Etude des Matériaux et des Structures (AFREM), le modèle est proposé comme annexe au règlement français de béton précontraint (BPEL), pour les bétons couvrant la gamme B40-B80.
Fichier principal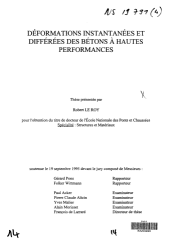 1995TH_LE_ROY_R_NS19791.pdf (21.62 Mo)
Télécharger le fichier
Origin : Files produced by the author(s)