Can Private Equity Funds Foster Corporate Social Responsibility?
Les Fonds de Capital Investissement Peuvent-Ils Promouvoir la Responsabilité Sociale des Entreprises ?
Is Corporate Social Responsibility (CSR), defined as the commitment of business to contribute to sustainable development and take responsibility for their impacts on society, coherent with Private Equity? To answer this question, the Chapter 1 of this Ph.D. dissertation surveys the literature on the economic determinants of CSR behaviors and its impacts on market structure, economic performance and society. Chapter 2 then tackles how firms can both succeed on profitability and sustainability levels and shows that the diverse policies encompassed in CSR do not equally matter to do well and do good. Chapter 3 empirically assesses where the French Private Equity industry stands in terms of CSR integration, and why. Responsible investment practices spread among mainstream Private Equity investors, characterized by a specific investor engagement and strategically driven by a need for new value creation sources, increased risk management and differentiation. Chapter 4 uses signaling theory to ask whether CSR could be used by Private Equity investors to better select their investments. It presents a money-burning investment game and experimentally tests it comparing a public good signal to a standard advertising signal. Results indicate that CSR does not improve firm selection, but it does not perfectly substitute to standard money-burning signals and impacts equilibrium selection. Finally, Chapter 5 turns to professional Private Equity investors to quantify the impact sustainable and unsustainable corporate practices have on equity financing in a unique field experiment. An asymmetric effect is observed, entrepreneurs having more to loose from unsustainable practices than to gain from sustainable ones. The dissertation concludes by discussing main results, implications for the Private Equity industry and public policies, and the limits and possible extensions of this research.
La Responsabilité Sociale des Entreprises (RSE), définie comme l'engagement des entreprises à contribuer au développement durable et à assumer la responsabilité de leurs impacts sur la société, est-elle compatible avec le Capital Investissement ? Pour répondre à cette question, le Chapitre 1 de la thèse analyse la littérature sur les déterminants économiques de la RSE et ses impacts sur la structure des marchés, la performance économique et la société. Le Chapitre 2 explore comment les entreprises peuvent réussir à être simultanément rentables et durables et montre que toutes les politiques de RSE n'équivalent pas pour y parvenir. Le Chapitre 3 évalue et explique empiriquement l'état de l'industrie française du Capital Investissement en matière d'intégration des enjeux de RSE. Il montre une rapide diffusion chez les acteurs conventionnels de pratiques d'investissement socialement responsable, qui se caractérisent par un engagement actionnarial particulier et sont stratégiquement déterminées par un besoin de nouvelles sources de création de valeur, d'amélioration de la gestion des risques et de différentiation. Le Chapitre 4 teste le potentiel de la RSE comme critère de sélection des investissements à partir de la théorie des jeux de signaux. Le modèle proposé est expérimentalement testé en laboratoire. Les résultats indiquent que la RSE n'améliore pas la sélection des entreprises mais ne se substitue pas parfaitement aux signaux standards et modifie la sélection des équilibres. Enfin, le Chapitre 5 présente une expérience avec des investisseurs professionnels qui permet de quantifier l'impact de la performance extra-financière sur l'accès aux capitaux propres. Un effet asymétrique est observé, les entrepreneurs ayant plus à perdre des pratiques irresponsables qu'à gagner des responsables. La thèse se conclut en discutant les principaux résultats, leurs implications pour les investisseurs en capital et les politiques publiques, leurs limites et leurs possibles extensions.
Fichier principal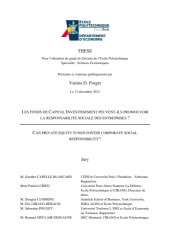 VD_Forget_pHD_thesis_2012_can_private_equity_funds_foster_CSR.pdf (4.07 Mo)
Télécharger le fichier