Molecular and physiopathological bases of horse susceptibility to osteochondrosis.
Bases moléculaires et physiopathologiques de l'ostéochondrose équine
Osteochondrosis (OC) is a juvenile osteo-articular disease characterized by a focal failure of cartilage maturation leading to weak areas. OC has been described in several species including Human, Dog, Swine, Poultry and Horse. In horse, lesions develop gradually without symptoms before one year old and clinical manifestations occur tardily during training. OC affects 10 to 30% of equine population and constitutes a major concern in terms of animal welfare and economy. Its multifactorial etiology remains poorly understood and involved several factors including genetics, environment and traumas. The aim of this current work was to improve the comprehension of equine OC physiopathology and highlight biological pathways disrupted. Taken together, our results made it possible to refine the definition of OC entities and our data could be relevant to improve diagnosis and develop new therapies. A constitutive defect was found in cartilage and bone of OC-affected horses and particularly a defective energy metabolism and a endoplasmic reticulum stress. Moreover, in function of lesion type, different underlying molecular mechanisms are involved in their development. Secondly, mircoRNAs (miRNAs) seem to take part in the OC physiopathology and some miRNAs could constitute a relevant therapeutic target or be used as diagnosis biomarkers.
L'ostéochondrose (OC) est une affection ostéo-articulaire juvénile caractérisée par une perturbation locale de la maturation du cartilage créant des zones de fragilité. L'OC a été décrite chez de nombreuses espèces dont l'Homme, le Chien, le Porc, le Poulet et le Cheval. Chez le cheval les lésions s'installent progressivement, sans symptômes, avant l'âge d'un an et les manifestations cliniques ne se manifestent que tardivement, souvent à l'entraînement. L'OC affecte 10 à 30 % de la population équine représentant ainsi un souci majeur pour la filière tant sur le plan du bien être animal que sur le plan économique. Son étiologie, multifactorielle, est encore mal comprise et implique des composantes génétiques et environnementales ainsi que traumatiques. Les objectifs des travaux présentés étaient d'améliorer la compréhension de la physiopathologie de l'OC équine et de mettre en évidence les processus biologiques perturbés. L'ensemble des résultats a permis de préciser la définition des différentes entités de l'OC et pourraient également être pertinentes dans l'amélioration du diagnostic et le dévelopement de nouveaux traitements. Un défaut constitutif de l'os et du cartilage a été mis en évidence chez les individus atteints d'OC, notamment associé à une perturbation du métabolisme énergénique et un stress du reticulum endoplasmique. De plus, selon le type de lésions, des mécanismes moléculaires sous-jacents différents sont impliqués dans leur développement. D'autre part, les microARNs (miRNAs) semblent également jouer un rôle dans la physiopathologie de l'OC et certains d'entre eux pourraient constituer de bonnes cibles thérapeutiques ou être utilisés comme biomarqueurs diagnostics.
Fichier principal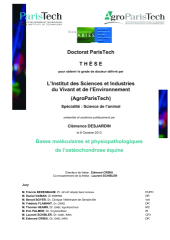 DLE_DESJARDIN_2013_archivage.pdf (17.07 Mo)
Télécharger le fichier
Origin : Version validated by the jury (STAR)