Emergency management at the boundary between expertise and decision : which role for CBRN-E atmospheric dispersion and impact assessment modeling?
La gestion des situations d'urgence à l'interface entre expertise et décision : quelle place pour les outils de modélisation des dispersions NRBC-E et de leurs conséquences ?
Environmental and health impact assessment of accidental or intentional releases of potentially hazardous materials in the atmosphere is increasingly supported by the development of modeling tools. Their potential to assess the spatial and temporal extent and severity of toxic plumes contributes to their growing development as CBRN-E emergency support tools. However, the Fukushima nuclear accident underlined that their support is not yet optimal regarding civil security organizations in charge of population protection. This research therefore tends to clarify the role of these modelling tools in emergency management. For this purpose, interviews and observations of crisis exercises have been conducted. This study suggests that nowadays, CBRN-E emergency management takes place in a sensemaking co-constructing process between CBRN-E experts and emergency managers contributing to the achievement of consensus in the decision making process. This study also highlights the key role played by the crisis center, regarding its proper organizational structure as a sharing place between actors with complementary expertise and experience, in the perception and response to changing circumstances. Thus, this study suggests that by providing situation assessment results, modeling tools meet the current practices both in terms of emergency support tools used for civilian protection organization and in respect of each actors' contributions. In this perspective, these modelling tools are likely to end up being part of the development of crisis management support tools for building a collective representation of the CBRN-E situation between expertise and decision.
Aujourd'hui, l'évaluation des conséquences environnementales et sanitaires d'événements majeurs liés aux rejets dans l'atmosphère de substances radiologiques ou chimiques est, de plus en plus, basée sur la mise en œuvre d'outils de modélisation. La capacité de ces outils à appréhender de manière toujours plus fine l'ampleur spatiale et temporelle de ce type d'événements contribue à leur positionnement croissant en appui aux situations d'urgence. Cependant, l'accident de Fukushima a souligné qu'en dépit de cette tendance, l'apport des outils n'est pas encore optimal au regard de l'environnement décisionnel de l'organisation de sécurité civile en charge, notamment, des décisions de protection des populations. Cette recherche s'attèle donc, sur la base d'interviews et d'observations d'exercices de crise, à clarifier la place des outils de modélisation en situation d'urgence. L'étude suggère qu'à ce jour, la gestion de ces situations prend place dans un processus de co-construction de sens entre acteurs d'expertise NRBC-E et décideurs, favorisant l'atteinte de consensus en matière de prise de décision. L'étude met également en lumière l'importance que joue le COD, de par sa structure même, comme lieu d'échange entre acteurs aux expertises et expériences complémentaires, dans la perception et la gestion des changements de contexte. Ainsi, nous suggérons qu'en se positionnant au niveau de l'évaluation de la situation, les outils de modélisation fournissent une information qui respecte les pratiques actuelles dans l'aide à la décision en situation d'urgence et le respect des rôles et expertises de chaque acteur. Dans cette optique, les modèles de dispersion et d'impact sont donc susceptibles de s'intégrer au développement plus global d'outils d'aide à la gestion des crises auprès de l'organisation de sécurité civile, principalement comme soutien à la construction d'une représentation collective et dynamique de la situation entre expert et décideur.
Fichier principal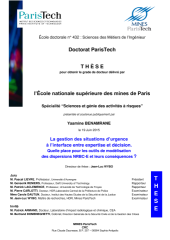 2015ENMP0013diffusion.pdf (7.51 Mo)
Télécharger le fichier
Origin : Version validated by the jury (STAR)