New gestural interaction techniques for interactive television
Conception et évaluation de nouvelles techniques d'interaction dans le contexte de la télévision interactive
Television has never stopped being popularized and offering new services to the viewers. These interactive services make viewers more engaged in television activities. Unlike the use of a computer, they interact on a remote screen with a remote control from their sofa which is not convenient for using a keyboard and a mouse. The remote control and the current interaction techniques associated with it are struggling to meet viewers' expectations. To address this problem, the work of this thesis explores the possibilities offered by the gestural modality to design new interaction techniques for interactive television, taking into account its context of use.
More specifically, in a first step, we present the specific context of the television usage. Then, we propose a litterature review of research trying to improve the remote control. Finally we focus on gestural interaction. To guide the design of interaction techniques based on gestural modality, we introduce a taxonomy that attempts to unify gesture interaction constrained by a surface and hand-free gesture interaction.
Therefore, we propose various techniques for gestural interaction in two scopes of research : gestural instrumented interaction techniques, which improves the traditional remote control expressiveness, and hand-free gestural interaction by exploring the possibility o performing gestures on the surface of the belly to control the television set.
La télévision n'a cessé de se populariser et d'évoluer en proposant de nouveaux services. Ces services de plus en plus interactifs rendent les téléspectateurs plus engagés dans l'activité télévisuelle. Contrairement à l'usage d'un ordinateur, ils interagissent sur un écran distant avec une télécommande et des applications depuis leur canapé peu propice à l'usage d'un clavier et d'une souris. Ce dispositif et les techniques d'interaction actuelles qui lui sont associées peinent à répondre correctement à leurs attentes. Afin de répondre à cette problématique, les travaux de cette thèse explorent les possibilités offertes par la modalité gestuelle pour concevoir de nouvelles techniques d'interaction pour la télévision interactive en tenant compte de son contexte d'usage.
Dans un premier temps, nous présentons le contexte singulier de l'activité télévisuelle. Puis, nous proposons un espace de caractérisation des travaux de la littérature cherchant à améliorer la télécommande pour, finalement, nous focaliser sur l'interaction gestuelle. Nous introduisons un espace de caractérisation qui tente d'unifier l'interaction gestuelle contrainte par une surface, mains libres, et instrumentée ou non afin de guider la conception de nouvelles techniques. Nous avons conçu et évalué diverses techniques d'interaction gestuelle selon deux axes de recherche : les techniques d'interaction gestuelle instrumentées permettant d'améliorer l'expressivité interactionnelle de la télécommande traditionnelle, et les techniques d'interaction gestuelles mains libres en explorant la possibilité de réaliser des gestes sur la surface du ventre pour contrôler sa télévision.
Fichier principal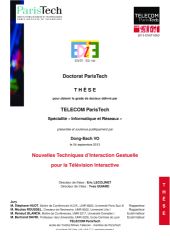 theseVoV2.pdf (18.7 Mo)
Télécharger le fichier
Origin : Version validated by the jury (STAR)