Managing the emergence of creative communities through co-design : contexts, dynamics and organization.
Le pilotage de la genèse de communautés créatives par le co-design : contextes, dynamiques et organisation.
More and more organizations turn to collective activities to design new products, services, processes or public policies with users, employees, citizens and other stakeholders. As a result, we know how to organize collective innovation under several forms : generally for moderated innovation with actors who work well together, within collectives who also function well. Yet, before discussing interactions for the purpose of innovating, we must recognize that we do not always perceive how these creative collectives emerge. Little is known about the moment it emerges. We also denote an antagonism regarding the management of communities, which is often badly perceived and potentially fatal. But then again, how can one stay on the touchlines when all the proper conditions are not in place a priori and when everything remains to be built?Thus, we are faced with a double unknown: 1) on the emergence of the creative communities, and de facto 2) on the management of the emergence of these collectives. How can we manage without being intrusive in contexts where there is nothing? Can innovation be a resource in this process and not only an effect? If that is the case, then we must understand how and for which reasons. Yet, the literature tends to separate both dimensions. It discusses innovation, but often portrays it as if it was reserved for "established" collectives ; or, on the other side, it discusses collectives, but it does not show how innovation can help in their development. Rather, the thesis demonstrates that there is a strong link between communities (relations) and innovation (for we are dealing with creative communities). That engaging in innovation (to design) strengthens the collective and that the collective strengthens the capacity of to innovate.We argue that co-design deals preciscly with this question. That this type of design poses as a tremendous space for the creation of collectives, where other methods fail, and that it gives way to creative communities where collective action was the least expected. More precisely, the thesis adresses the following three questions: 1) What are the characteristics of the collectives and the contexts "pre" community? 2) What is the role of design in the emergence of creative communities?; and 3) How to manage creative communities on the long run? By a qualitative and constructivist approach, it mobilizes a range of methodologies: multiple cases study, modelling and experimentation, as well as intervention research.Axis I deals with unstructured interpersonal relationships and contexts of innovation even less fertile than anticipated. Nevertheless, these conflicting initial relationships give way to a collective capacity to explore the unknown by the fact of engaging in co-design. The first managerial act of the genesis of a creative community lies in the capacity to transform, through a collective design activity, conflicts in common "undecidables", without solving them necessarily.Axis II demonstrates that the relational links strengthen as soon as actors engage in the generation of concepts; when they get to share and combine their knowledge in new ways. However, once this transformation has occured, communities need external resources to pursue their expansion. Thus, the second managerial act consists in putting back communities under tension by bringing in independent knowledge.Finally, the management of more elaborate and longer co-design initiatives in the third axis offers solutions to the various intra and inter sessions issues uncovered along the way. It also identifies two additional managerial acts: the consolidation of value and of the creative community, as well as the resolution collective proposals and the opening of new explorations.
De plus en plus d'organisations se tournent aujourd'hui vers des activités de conception collectives pour concevoir de nouveaux produits, services, processus ou politiques publiques avec les usagers, employés, citoyens et autres parties prenantes. Résultat, nous savons organiser sous plusieurs formes l'innovation collective : généralement de l'innovation modérée avec des acteurs qui fonctionnent bien ensemble, au sein de collectifs qui fonctionnent également bien.Or, avant de traiter d'interactions au service de l'innovation, il faut reconnaitre que l'on ne perçoit pas toujours comment ces collectifs créatifs émergent. Pourquoi tel mutisme sur le temps zéro ? On dénote aussi un antagonisme en matière de pilotage de communautés, lequel est souvent mal perçu et potentiellement fatal. Nous sommes donc confrontés à une double ignorance : 1) sur l'émergence des communautés créatives, et de facto 2) sur le management de l'émergence de ces collectifs. Comment peut-on gérer sans être intrusif dans des contextes où il n'y a rien? Est-ce que l'innovation peut être une ressource dans ce processus et non pas seulement un effet? Si tel est le cas, alors il faudra comprendre comment et pour quelles raisons. Or, le problème est que la littérature a tendance à séparer les deux dimensions. On parle d'innovation, mais on pense souvent qu'elle est réservée aux collectifs « bien constitués » ; de l'autre on parle de collectifs, mais on ne pense pas que l'innovation puisse aider à l'émergence de nouveaux collectifs. La thèse démontre plutôt qu'il y a un lien très intime et profond entre les aspects « communautés » (relations) et l'action d'innover (car c'est de communautés créatives qu'il s'agit). Que l'action d'innover (la conception) renforce le collectif et que le collectif renforce la capacité de conception.Nous montrons que c'est précisément de cette question que traite le co-design. L'approche de conception se pose en effet comme un formidable espace de création de collectifs, là où d'autres méthodes échouent. Elle enclenche la mise en route de communautés créatives là où l'on n'attendait plus la moindre action collective. Plus précisément, la thèse aborde les trois questions suivantes : 1) Quelles sont les caractéristiques des collectifs et des contextes « pré »-communauté? 2) Quel est le rôle de la conception dans l'émergence de communautés créatives? 3) Comment piloter des communautés créatives dans la durée ? Par une approche qualitative et constructiviste, elle mobilise une foule de méthodologies : l'étude de cas multiples, la modélisation et l'expérimentation, ainsi que la recherche-intervention.L'axe I se penche sur des rapports interpersonnels encore plus déstructurés et des contextes d'innovation encore moins fertiles qu'anticipés. De ces rapports initiaux antagonistes émerge pourtant une capacité à se projeter collectivement dans l'inconnu grâce la mise en place d'espaces de conception. Le premier acte managérial de la genèse d'une communauté créative tient dans la capacité à transformer, par un espace de conception, des conflits en indécidables communs, sans forcément les résoudre.L'axe II démontre que les liens relationnels se renforcent dès que l'on parvient à pousser les acteurs à générer des concepts; à faire circuler les connaissances et à favoriser leur combinaison. Mais une fois cette transformation effectuée, la communauté doit se doter de ressources externes pour poursuivre son expansion. Le deuxième acte managérial consiste donc à remettre la communauté sous tension en ramenant des connaissances indépendantes pour préserver la part d'indécidable.Finalement, le pilotage de l'axe III offre des pistes de solutions aux différents enjeux intra et inter séances de co-design relevés en cours de route. Il identifie aussi deux actes managériaux supplémentaires : la consolidation de la valeur et de la communauté, ainsi que la résolution des propositions collectives et l'ouverture de nouvelles explorations.
Fichier principal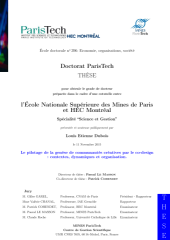 51450_DUBOIS_2015_archivage.pdf (10.31 Mo)
Télécharger le fichier
Origin : Version validated by the jury (STAR)