Multi-physics couplings : methodology impact evaluation for neutron transport /heat transfer /mechanics coupling simulations.
Couplages multi-physiques : évaluation des impacts méthodologiques lors de simulations de couplages neutronique/thermique/mécanique.
The objective of this thesis is to study coupling techniques between neutron transport, heat transfer and mechanics. First, a very general review of coupling techniques in the literature was done. Then we worked on neutron transport simulations in wrapped cores. Most of current deterministic codes for neutron transport are not able to deal with deformed geometry. This kind of computations is however of special interest for fast neutrons reactors and is a prerequisite for our planned coupling study.Two approaches were identified and implemented to take into account core deformations, using respectively mobile and fixed meshing. They were tested and compared on the flowering tests of the reactor Phenix. The coupling itself was studied afterwards, on the Godiva experiment. It was chosen because of the direct, strong and time-dependent coupling it involves. On this case, the "quasi-static" factorization of neutron flux was shown to be an effective way to couple a space- and time-dependent neutron transport solver with another discipline. We also investigated the development of a unique multiphysics solver. The well-known Newton algorithm applied to the discretized forms of the coupled equations was shown to be an efficient tool, which could be generalized to other couplings.This thesis therefore leads, on the one hand, to a better understanding of the physics of deformed cores and to operational tools to simulate these effects, and on the other hand, to very general advices for multiphysics calculations.
L'objectif de cette thèse est l'étude des méthodes de couplage entre neutronique, thermique et mécanique. Après une revue générale des techniques de couplage, on s'est intéressé à la prise en compte de déformations mécaniques dans les simulations neutroniques. Les codes actuels de neutronique utilisant des méthodes déterministes ne sont généralement pas capables de traiter une géométrie déformée. Ce type de calcul a pourtant un intérêt fort pour la filière rapide et est un prérequis indispensable pour l'étude du couplage envisagée.Deux approches ont été identifiées et implémentées pour répondre à cette problématique, selon que l'on utilise un maillage de calcul mobile ou fixe. Elles ont été testées et confrontées sur les essais de gerbage du réacteur Phénix. Le couplage a été étudié ensuite, avec l'approche à maillage mobile, sur l'expérience Godiva qui présente un couplage à la fois conceptuellement simple et fort entre les physiques qui nous intéressent. Ces travaux ont permis de mettre en avant l'utilisation de la méthode de factorisation quasi-statique en neutronique qui permet de coupler efficacement un solveur de neutronique cinétique avec une autre discipline. Travail plus amont, le développement d'un solveur directement multiphysique a également été exploré. L'utilisation de l'algorithme de Newton sur les formes discrétisées des équations couplées a donné de bons résultats et semble être une approche généralisable à d'autres couplages.Cette thèse débouche ainsi à la fois sur une meilleure compréhension de la physique des cœurs déformés et sur des outils opérationnels pour leur simulation, mais aussi sur des recommandations très générales pour la mise en œuvre de calculs couplés.
Fichier principal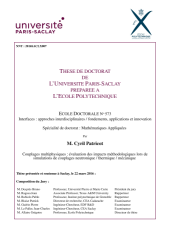 56855_PATRICOT_2016_diffusion.pdf (11.76 Mo)
Télécharger le fichier
Origin : Version validated by the jury (STAR)