Contribution to the reduction of the energy losses in motor-fan with high speeds.
Contribution à la réduction des dissipations énergétiques dans les moto-ventilateurs à hautes vitesses.
Nowadays, centrifugal fans are widely used in many industrial applications such as automotive, aeronautic, vacuum cleaner, etc. Due to their high adaptability, they can operate over a wide flow range especially with high speed rotation. In order to reduce the impact on environment, centrifugal fan as other energy conversion system has to display a high efficiency. However, a better understanding of their working and of the rotor-stator interaction is required to enhance their design and to make them widely integrated in current applications. The purpose of this study is to analyze and to quantify the influence of the solidity vaned diffusers on the performance of a centrifugal fan. A computational study has been conducted to analyze the performance of a centrifugal fan under various levels of impeller-diffuser interactions. The objective was to understand the pressure recovery phenomena in each diffuser. Different geometries were proposed to reduce both separation flow phenomenon and viscous losses. The geometries are all composed with the same impeller and return channel, only the vaned diffusers differ; the trailing edges are maintained at the same position while the leading edges have different radial positions. The characterization of the fan has been realized by an experimental setup designed and built in agreement to the standards ISO 5801 and 516
Le développement de turbomachines à faible vitesse spécifique suscite actuellement une forte demande dans de nombreux domaines industriels. De nos jours, les ventilateurs centrifuges constituées d'une roue, d'un diffuseur et d'un canal de retour sont largement utilisés dans de nombreuses applications telles que l'automobile, l'aéronautique, appareils domestiques, etc. En raison de leur grande adaptabilité, ils peuvent fonctionner sur une large plage de débit en particulier avec une vitesse de rotation importante. Cependant, leur utilisation nécessite une meilleure compréhension de leur fonctionnement et notamment de l'interaction rotor-stator pour mieux les concevoir. L'objectif de cette étude est d'analyser et de quantifier l'influence de la solidité des aubes du diffuseur (ou serrage des profils) sur les performances aérauliques du ventilateur centrifuge. Une étude numérique et expérimentale a été menée pour analyser les performances d'un ventilateur centrifuge avec différents niveaux d'interaction rotor-stator. Différentes géométries de diffuseur ont été proposées dans le but de réduire les dissipations énergétiques liées aux phénomènes de recirculation et aux forces de viscosité. L'étude approfondie de la norme ISO 5801 et ISO 5167 a permis de dimensionner et réaliser le banc d'essai et les organes de mesures. Ces normes proposent des calculs et des spécifications qui nous ont permis de fixer des critères quant au choix des éléments du banc d'essai AERO2VACCUM.
Fichier principal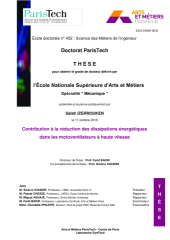 IZERROUKEN.pdf (69.13 Mo)
Télécharger le fichier
Origin : Version validated by the jury (STAR)