Experimental study and modeling of hot forming for innovative aluminum alloys.
Etude expérimentale et modélisation de la mise en forme à chaud d'alliages d'aluminium innovants
The ongoing researches to lighten aeronautical structures have led to the development of new materials like Al-Cu-Li and Al-Mg-Li alloys. These alloys exhibit lower density and higher mechanical properties than conventional alloys. However, their ability to be formed either by cold or hot forming process is not well known. The aims of this PhD research works are thus to characterize the formability of these new alloys and to suggest the most appropriate forming sequence to elaborate complex aeronautic parts. Various forming processes will be studied such as cold forming by stretching of sheet metal parts or hot forming by stamping of sheet metal parts after or during different heat treatments. An experimental as well as a numerical approach will be used to develop the forming process of these new alloys to elaborate fuselage panels with more or less complex shapes. These PhD research works are a component of a larger project led by IRT Jules Verne and entitled "Advanced forming of low density alloys for aeronautic applications". This project includes several firms from aeronautic domain (AEROLIA SAS, ACB, AIRBUS SAS and CONSTELLIUM).
La recherche permanente de solutions d'allègement des structures aéronautiques a conduit au développement de nouveaux alliages comme les Al-Cu-Li et les Al-Mg-Li qui se caractérisent par une densité inférieure aux alliages conventionnels et par des propriétés améliorées. De manière générale, la formabilité de ces alliages, que ce soit à froid ou à chaud est encore assez mal connue. Le projet « Formage avancé des alliages basses densité pour application aéronautique » se propose donc de caractériser précisément la plage de formabilité de ces nouveaux alliages et d'investiguer les voies de mise en œuvre les plus adaptées : procédé d'étirage conventionnel ou procédé de mise en forme pendant une étape de traitement thermique. Ce projet regroupe les entreprises AEROLIA SAS, ACB, AIRBUS Operation SAS et CONSTELLIUM.Ces développements seront destinés au fuselage métallique et plus particulièrement à la structure pointe-avant qui présente une géométrie en double courbure ; ils concernent à la fois les panneaux de fuselage et les profilés.
Fichier principal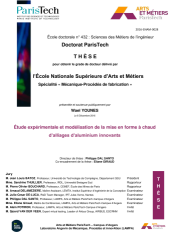 YOUNES.pdf (13.04 Mo)
Télécharger le fichier
Origin : Version validated by the jury (STAR)