Integrating knowledge on technological innovation in the early design. Application to the context of Additive Manufacturing.
Concevoir avec la Fabrication Additive : Une proposition d'intégration amont de connaissances relatives à une innovation technologique
The onset of Additive Manufacturing (AM) upsets design practices and is receiving attention because its potential is promising for product innovation. However, while innovation issues are paramount during early design stages, few designers have sufficient knowledge about AM and use it poorly to develop creative solutions. Thus, our research objective is the increase of the innovation capacity of the design team through the integration of AM knowledge into early design. To do this, we propose to use "just needed" AM knowledge, i.e., AM knowledge whose contents, supports and instancing are tailored to the design team needs. Moreover, we propose that this integration takes place in a design model that allows the Design With Additive Manufacturing (DWAM) approach. Our contributions are both the proposal of a methodology based on Knowledge Management dedicated to the identification, the capitalization and the valorization of the "just needed" AM knowledge; and of a design model in 3 stages, in which the useful for DWAM approach AM knowledge is specified. Finally, this enriched model is valued in a digital tool in order to improve collaborative and concurrent design.
La Fabrication Additive (FA) vient aujourd'hui bouleverser des habitudes de conception bien ancrées, et suscite dans le même temps un intérêt grandissant pour les perspectives qu'elle offre pour l'innovation produit. Pourtant, alors que les enjeux liés à l'innovation sont prépondérants en conception amont, peu de concepteurs connaissent et utilisent le potentiel des connaissances FA pour développer puis sélectionner des solutions créatives. Dans ce contexte, notre recherche a pour objectif d'augmenter la capacité d'innovation des concepteurs en intégrant des connaissances FA lors de la conception amont. Pour cela nous proposons d'intégrer des connaissances FA explicites dites « au juste besoin », c'est-à-dire dont le contenu, l'instanciation et le support sont adaptés aux besoins des équipes de conception. De plus, nous proposons que cette intégration s'effectue dans un modèle de conception permettant l'approche Design With Additive Manufacturing (DWAM). Nos apports sont la proposition : d'une démarche, basée sur le Knowledge Management, permettant de repérer, capitaliser puis valoriser les connaissances FA au juste besoin ; mais également d'un modèle de conception amont en 3 étapes dans lequel les connaissances FA utiles à l'approche DWAM sont spécifiées. Enfin, ce modèle enrichi est valorisé dans un outil numérique support afin de faciliter le travail collaboratif et concourant.
Fichier principal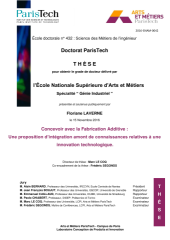 LAVERNE.pdf (6.67 Mo)
Télécharger le fichier
Origin : Version validated by the jury (STAR)