Valuation of telecommunication assets in sub-Saharan Africa
La valorisation des investissements télécoms en Afrique sub-Saharienne
There is still scant knowledge in the economic and international business literature regarding two issues: - Valuation methods of modes of market entry and of investment by an international telecom operator, - The case of Africa as a host continent for these investments. The thesis deals with foreign investments in Africa in the telecom sector, focusing on two entry modes: license awards and acquisitions of local operators. Its objective is to demonstrate on what extent « local » factors (related to the host country and its local telecom market) have an impact on the valuation of these investments in sub-Saharan Africa. This work covers the issues of the strategic interest of these investments, the methods to valuate these investment opportunities, as well as the different factors to take into account in this valuation. A database has been developed, gathering all deals made by multinational operators in sub-Saharan Africa over 2000-2010. Several quantitative analyses have been conducted as from this corpus, in order to identify the determinants of deal amounts. This work demonstrates the lack of regularity and rationality in deals' prices of the telecom sector in Africa.
Deux problématiques ont été peu explorées dans la littérature économique et managériale:
 - les méthodes d'évaluation des opportunités d'entrée et d'investissement par un opérateur télécom international, - le cas du continent africain comme destination de ces investissements, qui fait l'objet de beaucoup d'intérêt de la part des grands opérateurs internationaux.
 La thèse porte sur les investissements étrangers en Afrique dans le secteur des télécoms, en s'intéressant à deux modes d'entrée : l'acquisition d'une licence et le rachat d'un opérateur installé. Son objectif est de montrer dans quelle mesure les facteurs locaux, liés au pays d'accueil de l'investissement et à son marché télécom local, ont un impact sur la valorisation de ces investissements en Afrique sub-Saharienne. La thèse couvre la question de l'intérêt stratégique de ces investissements, les méthodes pour estimer ces opportunités, ainsi que la nature des différents facteurs à considérer dans cette estimation.
 Une base de données a été développée, rassemblant les transactions effectuées par les principaux opérateurs multinationaux en Afrique sub-Saharienne sur la période 2000-2010.
Plusieurs analyses quantitatives ont été menées à partir de cette base de données, afin d'identifier les déterminants des prix de ces transactions. La thèse montre le manque de régularités et de rationalité dans les prix des transactions du secteur télécom sur le continent.
Fichier principal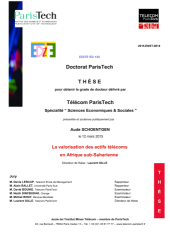 TheseSchoentgenV2.pdf (11.48 Mo)
Télécharger le fichier
Origin : Version validated by the jury (STAR)