Does CEO Resilience matter ? An upper echelons perspective.
La résilience du Président Directeur Général a-t-elle une importance? Une perspective "upper echelons".
Focusing on CEO resilience, this dissertation contributes to the upper echelons or strategic leadership research tradition and highlights a capacity, which is crucial in times of uncertainty, rapid change and pressure. Adopting a three essay format (two empirical and one theoretical pieces), it questions the influence of CEO resilience. The first chapter contextualises my work by reviewing previous "upper echelons" contributions pertaining to CEO characteristics and resilience literature. The first essay then investigates the impact of CEO resilience on firm performance and demonstrates the existence of a bell shape curvilinear relationship, relationship moderated by financial slack and industry complexity. The second essay confirms the existence of a U shape curvilinear relationship between CEO resilience and strategic dynamism and establishes the mediating role of strategic dynamism in the CEO resilience-company performance sequence. The third essay, which is conceptual, provides a model for internal and external diffusion of CEO resilience in times of crisis. Finally the concluding chapter of my thesis stresses some limitations, proposes future research avenues, and put forward some managerial implications.
En mettant l'accent sur la résilience des Présidents Directeur Généraux, cette thèse contribue au courant de recherche « upper echelons » et met en lumière une capacité, qui est cruciale en période d'incertitude, de changement rapide et de pression. Adoptant un format en trois essais (deux essais empiriques et un essai théorique), elle questionne l'influence et la diffusion de cette résilience au plus haut niveau. Afin de contextualiser mes travaux, je propose tout d'abord une revue de littérature des contributions « upper echelons » ayant trait aux caractéristiques des dirigeants et des recherches afférentes au concept de résilience. Le premier essai documente ensuite l'impact de la résilience des dirigeants sur la performance de leur entreprise et corrobore l'existence d'une relation curvilinéaire de forme concave, relation modérée par de niveau de réserve financière de l'entreprise et le niveau de complexité de son secteur d'activité. Le second essai corrobore l'existence d'une relation curvilinéaire de forme convexe entre résilience du dirigeant et degré de dynamisme stratégique et établit le rôle de médiateur de ce-dernier dans la relation résilience du dirigeant-performance de l'entreprise. Le troisième essai, de nature conceptuelle, propose un modèle de diffusion interne et externe de la résilience du dirigeant en temps de crise. Dans le chapitre de conclusion de ma thèse, après avoir souligné quelques limites de mon approche et proposé des pistes de recherche, je fournis quelques implications managériales de mes travaux.
Fichier principal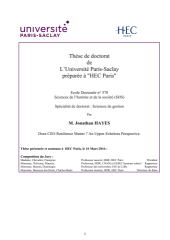 HAYES_2016.pdf (4.24 Mo)
Télécharger le fichier
Origin : Version validated by the jury (STAR)