New applications of Passerini reaction in Friedel-Crafts and Tsuji-Trost reactions.
Nouvelles applications de la réaction de Passerini dans des réactions de type Friedel-Crafts et Tsuji-Trost.
The development of rapid and efficient syntheses of complex molecules from simple starting substrates using a minimum of steps is a real challenge of contemporary organic chemistry. In this context, multicomponent reactions, thanks to their ability to create several one-step bonds, offer a high efficiency in synthesizing structures of great molecular complexity. Moreover, organometallic catalysis has developed considerably in recent years, becoming a tool of choice for the formation of carbon-carbon bonds. The Tsuji-Trost reaction is specially well known in this field.In this thesis, the discovery of the original post-condensations from the adducts obtained by multicomponent reactions involving isonitrile is the major axis of our research. These reactions allow efficient access to a wide range of heterocyclic compounds.First, we have developed a new efficient pathway for the synthesis of indolylacetamides via the Passerini/Friedel-Crafts cascade from the Passerini adducts and indole in the presence of a Lewis acid. A one-pot version of this cascade has been also developed.Furthermore, we have exploited the reactivity of N-monosubstituted hydrazones as 1,3-bis-nucleophile in order to prepare various 2-pyrazoline derivatives via a pallado-catalyzed Tsuji-Trost/Cyclisation cascade from the Passerini adducts or Phosphonates. In order to prepare enantioselectively enriched 2-pyrazolines, the enantioselective version of this cascade was also realized from the Passerini adduct.Finally, the development of a new Tsuji-Trost/Cyclization cascade from the Passerini adducts and the allyl methyl carbonate provide straight fast and efficient access to oxazolidine-2,4-diones heterocyclic units by exploiting the carbon dioxide generated in situ.
L'élaboration de synthèses rapides et efficaces de molécules complexes à partir de substrats de départ simples en utilisant un minimum d'étapes constitue un véritable enjeu de la chimie organique contemporaine. Dans ce contexte, les réactions multicomposant, grâce à leur capacité à créer plusieurs liaisons en une étape, offrent une grande efficacité pour synthétiser des structures d'une grande complexité moléculaire. Par ailleurs, la catalyse organométallique s'est considérablement développée ces dernières années, pour devenir un outil de choix pour la formation de liaisons carbone-carbone. La réaction de Tsuji-Trost est notamment un des plus connues dans ce domaineDans le cadre de cette thèse, la découverte de post-condensations originales à partir d'adduits obtenus par les réactions multicomposant impliquant un isonitrile est l'axe majeur de nos recherches. Ces réactions permettent un accès efficace à un large éventail de composés hétérocycliques.Tout d'abord, nous avons développé une nouvelle voie efficace de synthèse des indolylacétamides via une cascade Passerini/Friedel-Crafts à partir d'adduits de Passerini et d'indoles en présence d'un acide de Lewis. Une version monotope de cette cascade a été ainsi développée.Par ailleurs, nous avons exploité la réactivité des hydrazones N-monosubstitués en tant que bis-nucléophile 1,3 en vue de préparer divers dérivés de 2-pyrazolines via une cascade Tsuji-Trost/Cyclisation pallado-catalysée à partir des adduits de Passerini ou de phosphonates. Dans le but de préparer des 2-pyrazolines énantiosélectivement enrichis, une version énantiosélective de cette cascade a été également réalisée à partir d'adduits de Passerini.Enfin, la mise au point d'une nouvelle cascade Tsuji-Trost/Cyclisation exploitant l'allyle méthyle carbonate a permis l'accès rapide à des motifs hétérocycliques de type oxazolidine-2,4-diones en exploitant le dioxyde de carbone généré in situ.
Fichier principal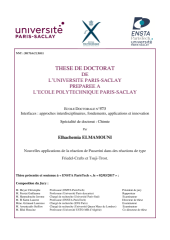 58408_ELMAMOUNI_2017_archivage.pdf (12.02 Mo)
Télécharger le fichier
Origin : Files produced by the author(s)