New management accounting for ecosystems. An action research with an environmental sector company.
Nouvelles comptabilités au service des écosystèmes. Une recherche engagée auprès d'une entreprise du secteur de l'environnement.
Current efforts to halt the destruction of the planet's ecosystems and to reinforce and renew their collective management reside on three distinct innovation fronts: (1) the design and use of new ecosystem assessment tools by conservation scientists and practitioners; (2) the development of new social and environmental accounting frameworks and tools at the level of organization; (3) the contribution of the private sector to natural capital protection and maintenance. This doctoral thesis aims to relate these three domains of innovation to one another by mobilizing the accounting discipline as a pivot to connect ecological information systems and tools, diverse forms of collective action for ecosystem management, and private sector initiatives and accounting innovations. The thesis combines a work of theoretical construction with the results of an action-research conducted in an environmental sector company that seeks to develop new services specifically designed for the management of ecological systems. We first propose a new theoretical and practical perspective at the junction of accounting and conservation science centered on the collective management of ecological issues: the development of Management Accounting for Ecosystems. We show why and how they are complementary to all the other domains of ecosystem accounting innovation. Secondly, we introduce four organizational and strategic directions to think and guide the development of new "services to ecosystems" business models. To complement them, we suggest new accounts and accounting practices to help environmental sector companies negotiate and co-create ecological value with other stakeholders, and transform their own representation and quantification of corporate value.
La lutte contre la destruction des écosystèmes et les efforts pour renforcer et renouveler les conditions de leur prise en charge collective reposent aujourd'hui sur trois fronts d'innovation disjoints : (1) la conception et l'utilisation de nouveaux outils d'évaluation des écosystèmes dans le champ de la conservation ; (2) le développement de nouvelles comptabilités socio-environnementales à l'échelle des organisations et (3) la mise à contribution des entreprises dans la protection du capital naturel. Cette thèse doctorale vise à les articuler en mobilisant la comptabilité comme pivot pour connecter les systèmes d'information écologique, les formes diverses d'organisation de l'action collective, et les initiatives et comptabilités des entreprises. Elle combine un travail de construction théorique et une recherche-intervention auprès d'une grande entreprise du secteur de l'environnement qui cherche à développer des activités de service dédiées à la qualité écologique des territoires. Nous proposons premièrement l'ouverture d'une nouvelle perspective d'innovation théorique et pratique, au croisement entre comptabilités et sciences de la conservation, et centrée sur la gestion collective de problèmes écologiques : le développement de « Comptabilités de Gestion pour les Ecosystèmes ». Nous montrons en quoi elles sont complémentaires de l'ensemble des autres types d'innovations comptables portant sur les écosystèmes. Nous proposons deuxièmement quatre grandes orientations organisationnelles et stratégiques pour penser et guider le développement de nouveaux modèles d'affaires de « services aux écosystèmes ». Afin de les compléter, nous ouvrons des pistes de conception de comptes et d'activités comptables pour accompagner une entreprise du secteur de l'environnement dans la négociation et la création collective de valeur écologique sur les territoires et dans la transformation de sa propre représentation et quantification de la valeur.
Fichier principal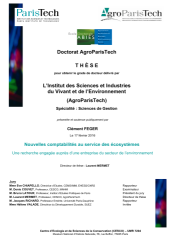 49069_FEGER_2016_archivage.pdf (9.93 Mo)
Télécharger le fichier
Origin : Version validated by the jury (STAR)