Development of new reactions of organic synthesis catalyzed by gold and copper
Développement de nouvelles réactions de synthèse organique catalysées à l'or et au cuivre.
This manuscript presents the development of gold- and copper-catalyzed methods for the synthesis of heterocyclic compounds and trifluoromethylated products.Firstly, a gold-catalyzed synthesis of trifluoromethyl allenes was developed, relying on a 1,5 hydride shift. This method allows to access, in a very efficient and selective way, a large range of perfluoroalkylated allenes, of which the synthetic potential was also demonstrated.Afterwards, the catalytic power of gold was then used in a synthesis of 2H-1,3-oxazines, relying on a 6-endo type cyclization of azide-yne substrates. This methods allows to access, in very mild condition, an unprecedently large range of polysubstituted oxazines in excellent yields.Finally, a method for the copper-catalyzed radical hydrofunctionalization of alkenols was developed. The strategy involved relies on a 1,5 hydrogen abstraction, in which a benzyloxy moiety plays the role of the hydrogen donor.
Cette thèse décrit le développement de nouvelles méthodes de catalyse à l'or et au cuivre pour la synthèse de composés hétérocycliques et de produits trifluorométhylés.Dans un premier temps, une synthèse d'allènes trifluorométhylés par catalyse à l'or a été développée, dont l'étape clé est un transfert d'hydrure 1,5. Cette méthode donne accès de manière efficace et sélective à une large gamme d'allène perfluoroalkylés dont le potentiel synthétique a également été démontré.Le pouvoir catalytique de l'or a alors été utilisé dans une synthèse de 2H-1,3-oxazines reposant sur une cyclisation de type 6-endo d'azido alcynes. Cette méthode donne accès dans des conditions très douces à une gamme sans précédent d'oxazines polysubstituées avec d'excellents rendements.Dans un dernier temps, une méthode d'hydrofonctionnalisation radicalaire d'alcènols catalysée au cuivre. La stratégie impliquée repose sur une abstraction d'hydrogène 1,5, dans laquelle un groupement benzyloxy joue le rôle de donneur d'hydrogène.
Fichier principal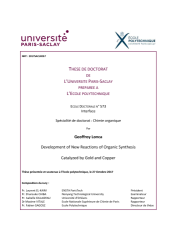 65292_LONCA_2017_archivage.pdf (4.82 Mo)
Télécharger le fichier
Origin : Version validated by the jury (STAR)