Ultra-intense laser-plasma interaction at near-critical density for ion acceleration
Interaction laser-plasma ultra-intense à densité proche-critique pour l'accélération d'ions.
Interaction of ultra-intense, ultra-short laser with matter gives rise to a wealth of phenomena, due to the coupling between the electromagnetic field and the plasma. The non-linear coupling excites collective plasma processes able to sustain intense electric fields up to 1TV/m. This property spurred early interest in laser accelerator as compact, next-generation source of accelerated electrons and ions. Laser-driven ion source of several MeV was demonstrated in early 2000 an various mechanisms had been suggest to improve the their properties. These first ion sources have been obtained on solid targets, called "overdense". Target innovation has driven the improvement of these sources. In the continuity of this dynamic, new gaseous targets had been proposed in order to relax the constraints that solid targets impose on laser contrast and repetition rate. Recent experimental demonstrations of monoenergetic ion acceleration in gas renew the interest in such targets, called under-dense or near-critical because of their intermediate densities. At near-critical density the laser can propagate, but undergoes significant absorbtion, giving rise to the accelerating structures of plasma shocks and magnetic vortex.The work presented in this thesis is an experimental exploration of the plasma conditions required to drive ion acceleration in gaseous near-critical target. For the first time, these regimes are explored with an ultra-intense, femtosecond laser of 150TW. A part of this work has been dedicated to the design of an innovative gas target, suited for plasma density and gradient constraints set by these regimes. Then the experimental works describe laser propagation and electron acceleration in near-critical targets. Finally the last part report the efficient production of an atomic beam from a laser-driven ion source.
L'interaction d'un laser ultra-intense et ultra-court avec la matière donne naissance à une grande variété de processus issus du couplage des ondes électromagnétiques associées au laser avec les modes du plasma. Ce couplage hautement non-linéaire excite des phénomènes plasmas collectifs capables de produire des champs intenses pouvant atteindre le TV/m. Ces champs ouvrent la possibilité de réaliser des accélérateurs de particules compacts, aussi bien d'électrons que d'ions. Des sources laser-plasma d'ions de plusieurs dizaines de MeV ont été démontré au début des années 2000 et de nombreux mécanismes ont été suggérés depuis afin d'en améliorer les propriétés. Historiquement, les sources d'ions par laser ont été obtenues à partir de cibles solides dîtes sur-denses. L'innovation sur les cibles a été un moteur majeur de l'amélioration de ces sources. Dans la continuité de cette dynamique, l'utilisation de cibles gazeuses a été proposé afin d'alléger les contraintes de contraste laser et de taux de répétition. De récentes démonstrations expérimentales sont venus renforcer l'intérêt pour ces cibles, dîtes sous-denses ou proche critiques, dont la valeur est propice à la propagation, à l'absorption du laser et à la création de structures accélératrices que sont les chocs plasmas et les vortex magnétiques. Les travaux présentés dans cette thèse constituent une exploration expérimentale des paramètres plasmas nécessaires à l'accélération d'ions dans des cibles gazeuses de densité proche-critique. Pour la première fois ces régimes sont explorés avec un laser ultra-intense femtoseconde de 150TW. Une partie des travaux a été consacrée à la réalisation d'une cible innovante, adaptée aux contraintes de densité et de gradients plasma requises par ces régimes. Suivent, les travaux expérimentaux décrivant la propagation du laser et l'accélération d'électrons dans des cibles proche-critiques. Enfin une dernière partie décrit la production d'un faisceau d'atome issue d'une source d'ion laser.
Fichier principal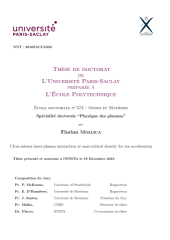 52618_MOLLICA_2016_archivage.pdf (71.07 Mo)
Télécharger le fichier
Origin : Version validated by the jury (STAR)