Consideration of value chain actors in the analysis of environmental performance for eco-design and incentive for sustainable behavior : case study of energy-using products road transport refrigeration units
Prise en compte des acteurs de la chaîne de valeur dans l'analyse de la performance environnementale pour éco-concevoir et inciter à une éco-utilisation : cas appliqué aux produits consommateurs d'énergie unités de réfrigération pour le transport routier.
To implement ecodesign strategies, it is necessary to evaluate the environmental performance. The use of Environmental Performance Indicators (EPI) is a good way to achieve this. These EPI, to be effective, must be adapted to the various value chain actors, internal and external to the company, susceptible to be involved in the improvement of the environmental performance. These different actors have different needs regarding information (details, type of information) and these needs may be contradictory. In this work, we propose a method for selecting EPI that take into account the value chain actors and their needs. Once the EPI have been defined, they must be able to assess the situation, define ecodesign strategies and monitor the evolution of environmental performance. For some energy-using products, the usage scenario can significantly vary the environmental performance. A focus is thus put on the development of sustainable behavior strategies. It is necessary that the strategies put in place allow customers/users to reduce their environmental impact and that the company takes a competitive advantage while improving the environmental performance of its products. In this study, this is reflected in: 1) the adaptation of existing ecodesign tools for the integration of value chain actors; 2) the definition of a method of personalized diagnosis of the use of products. These methods have been applied and validated by the case study of road transport refrigeration units.
Pour mettre en place des stratégies d'écoconception, il est nécessaire d'évaluer la performance environnementale. L'emploi d'Indicateurs de Performance Environnementale (IPE) est un bon moyen pour y parvenir. Ces IPE doivent être adaptés aux différents acteurs de la chaine de valeur, internes et externes à l'entreprise, susceptibles d'être impliqués dans l'amélioration de la performance environnementale pour qu'ils soient efficaces. Ces différents acteurs ont des besoins différents en matière d'information (détails, type d'information) et ces besoins peuvent être contradictoires. Nous proposons, dans ces travaux, une méthode de sélection des IPE prenant en compte les acteurs de la chaîne de valeur et leurs besoins. Une fois les IPE définis, ils doivent permettre d'évaluer la situation, de définir des stratégies d'écoconception et de suivre l'évolution de la performance environnementale. Pour certains produits consommateurs d'énergie en phase d'utilisation, le scénario d'usage peut faire varier de manière importante la performance environnementale. Un focus est donc fait sur la mise en place de stratégies d'éco-utilisation. Il est nécessaire que les stratégies mises en place permettent aux clients/utilisateurs de diminuer leurs impacts environnementaux et à l'entreprise de prendre un avantage concurrentiel tout en améliorant la performance environnementale de ses produits. Dans ces travaux, cela se traduit par : 1) l'adaptation d'outils d'écoconception existant pour l'intégration des acteurs de la chaîne de valeur ; 2) la définition d'une méthode de diagnostic personnalisé de l'usage des produits. Ces méthodes ont été appliquées et validées sur le cas d'étude des unités de réfrigération pour le transport routier à température dirigée.
Fichier principal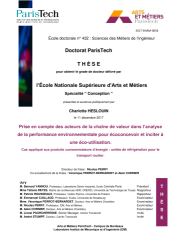 HESLOUIN.pdf (15.02 Mo)
Télécharger le fichier
Origin : Version validated by the jury (STAR)