Inter-hospital reconfiguration in France : the emergence of a new governmentality regime
Regrouper pour mieux gouverner ? : Le cas des hôpitaux publics français
As in most of developed countries, French public hospitals are facing several challenges: shortage of medical resources, development of new care practices, 
as well as recurrent reforms introducing new financing or governance rules. The fragmented organization of the hospital network, which is made up of nearly a thousand public institutions, makes it difficult to implement a large-scale transformation that would meet these multiple constraints.In such a context, the latest healthcare law (2016) now requires all public hospitals in France to join a Territorial Hospital Group (THG). THGs come after a series of instruments that aimed at reorganizing the territorial hospital organisation, with mixed results up to now. This new reform has aroused many questions regarding its objectives and implementation conditions. Indeed, it contrasts with the strong state-control trend that had prevailed so far, by giving local actors a large amount of autonomy.The thesis is based on the analysis of this reform through a multiple case study. The main ambition of this work is to question the inclusion of the THG law in a new public action paradigm.Despite its apparently relatively vague objectives, I show that this reform is a real break in public action, as it aims at initiating local exploration dynamics around new territorial organizations. This approach corresponds to a new governmentality regime, providing actors with specific objects of government, such as care pathways, capable of triggering collective learning through the creation of exploration partnerships. However, due to remaining inconsistencies in the government's action, the trajectories of these THGs appear to be very heterogeneous. Therefore, I suggest several recommendations for the management of these exploration dynamics, as well as for consistent public action engineering, in order to carry out such new orientations.
Comme dans la plupart des pays développés, l'hôpital public français fait face à de nombreux défis : démographie médicale défavorable, évolution des modes de prise en charge des patients, accumulation de réformes introduisant de nouvelles règles de financement ou de gouvernance, etc. L'organisation encore très éclatée du maillage hospitalier, qui compte près d'un millier d'établissements publics, rend difficile une transformation d'ampleur qui réponde à ces multiples contraintes.Dans ce contexte, la loi de modernisation de notre système de Santé de 2016 impose désormais à tous les hôpitaux publics de France d'adhérer à un Groupement Hospitalier de Territoire (GHT). Le GHT s'inscrit à la suite de nombreux instruments d'action publique visant à réorganiser le paysage hospitalier, mais dont les effets ont été souvent modestes. De multiples interrogations entourent cette nouvelle réforme, aussi bien à propos de ses finalités que de ses conditions de mise en œuvre. En effet, elle tranche avec le mouvement de reprise en main par l'Etat qui prévalait jusqu'à présent, en laissant une large autonomie aux acteurs de terrain dans son application.La thèse repose sur l'analyse de cette mesure, à travers l'étude de trois cas de construction de GHT. La principale ambition de notre travail est de s'interroger sur l'inscription de la réforme des GHT dans un nouveau paradigme de l'action publique.Nous montrons que malgré ses objectifs en apparence relativement vagues, cette réforme marque une véritable rupture dans l'action de l'Etat, visant à amorcer des dynamiques locales d'exploration de nouvelles modalités d'orga-nisation territoriale de l'offre de soins. Cette approche correspond à un nouveau régime de gouvernementalité, qui offre aux acteurs des objets de gouvernement, comme les parcours des patients, capables d'enclencher des apprentis-sages collectifs à travers la mise en place de partenariats d'exploration. Toutefois, en raison de plusieurs incohérences persistant dans l'action de l'Etat, les trajectoires de ces GHT s'annoncent hétérogène. Nous formulons donc quelques préconisations pour le management de ces dynamiques exploratoires, ainsi que pour une ingénierie de l'action publique plus cohérente, afin de mener à bien ces nouvelles orientations.
Fichier principal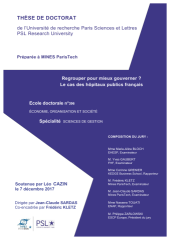 2017PSLEM013_archivage.pdf (10.09 Mo)
Télécharger le fichier
Origin : Version validated by the jury (STAR)