Methodological development for performance and sustainability assessment of power generation systems based on biomass gasification in rural areas : case study in Burkina Faso.
Développement méthodologique pour l'évaluation des performances et de la durabilité des systèmes de production d'électricité par gazéification de biomasse en milieu rural : Etude de cas au Burkina-Faso
This thesis aims to develop a performance assessment methodology of power generation systems based on biomass gasification in a rural area case in developing countries. The general methodological framework of this thesis is described in the approaches as follow: (i) defining performance assessment criteria, (ii) selecting methods or models for assessing the criteria, and (iii) choosing the method of analyzing the reliability of the assessment. Based on this methodological framework, a methodology for the assessment of electricity generation by biomass gasification systems in West Africa is developed. Fourteen assessment criteria are defined by taking in account technical, economic, environmental and social aspects. Models are developed for the calculation of each criterion considered. The models are then applied to carry out a performance assessment of the electricity generation by biomass gasification project in Burkina Faso. Twelve (12) system configurations are studied to satisfy the same load profiles. Simulation results allowed identifying from the point of view of the operator and the consumers the configurations which give better valorization of biomass available with an affordable electricity cost and which offer to operator a relative flexibility to adapt to changes in electricity demand.
Le but de cette thèse est de développer une méthodologie permettant d'évaluer les performances et la durabilité des systèmes de production d'électricité par gazéification de biomasse en milieu rural en pays en développement. Cette thèse propose un cadre méthodologique général qui décrit les démarches visant: (1) à définir les critères d'évaluation de performance, (2) à choisir les méthodes ou modèles d'évaluation des critères et (3) à choisir la méthode permettant d'analyser la fiabilité de l'évaluation. A partir de ce cadre méthodologique, une méthodologie d'évaluation des systèmes de production d'électricité par gazéification de biomasse en Afrique de l'Ouest est développée. Quatorze (14) critères d'évaluation sont définis en prenant en compte les quatre dimensions de la durabilité (technique, économique, environnemental, social). Des modèles sont élaborés pour l'estimation de chacun des critères considérés. Le modèle d'évaluation global est appliqué sur un projet de système de production d'électricité par gazéification de biomasse au Burkina Faso. Douze (12) configurations de système sont évaluées pour satisfaire les mêmes profils de charge. Les résultats de simulation ont permis d'identifier d'un point de vue de l'opérateur et des consommateurs, la configuration qui permet de valoriser au mieux la ressource en biomasse locale disponible avec un coût d'électricité abordable et qui offre à l'opérateur une flexibilité relative pour s'adapter aux évolutions de la demande en énergie électrique
Fichier principal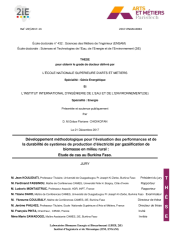 CHIDIKOFAN.pdf (6.15 Mo)
Télécharger le fichier
Origin : Version validated by the jury (STAR)