Design and evaluation of the user experience in immersive virtual environment.
Conception et évaluation de l'expérience utilisateur en environnement virtuel immersif.
Virtual Reality has until recently been mostly dedicated to experts. It is now pursuing its development towards the general public with the launch of new devices (e.g., Oculus) and immersive applications (e.g., Star Wars: Jedi Challenges). However, only few User eXperience (UX) models and tools are identified for Immersive Virtual Environments (IVE) in the scientific literature. And these few existing models and tools do not consider all the relevant UX components. This thesis aims to propose and validate a holistic UX model adjusted to IVE (objective 1), to build and validate a UX questionnaire that operationalizes the model (objective 2) and to use the validated questionnaire in an international company context, specifically an immersive applications editor in the field of edutainment (objective 3). The « Immersive Virtual Experience Model » (IVEM) model that we propose is multidimensional. Indeed, it combines not only IVE intrinsic factors (i.e., field of view, framerate, interactive level, 3D content feedback) and user intrinsic factors (i.e., previous experience) but also components from the scientific literature that characterizes the UX (i.e., presence, immersion, engagement, flow, usability, skills, emotions, experience consequences, judgement, technology adoption). The IVEM model was validated via five experimental studies. It confirms the effects of factors on components already identifies in the scientific literature as well as revealing new relations between components that were not demonstrated until then. Our « Immersive Virtual Experience Questionnaire » (IVEQ) questionnaire operationalizes the ten components of our model through items originating from validated and reported questionnaires in the scientific literature. The IVEQ questionnaire was validated through an experimental study conducted on 152 participants. It now comprises 68 items: 9 items for presence, 3 items for engagement, 5 items for immersion, 10 items for flow, 11 items for emotion, 6 items for skill, 9 items for judgement, 8 items related to experience consequences and 7 items refers to technology adoption. The validated questionnaire was experimented with an immersive solutions editor, specifically the EON Reality company, in order to assist the design of the edutainment application King Tut VR2 that can be used via two virtual reality devices: the VRONE headset and the immersive room iCube.
La réalité virtuelle, jusqu'alors réservée à des professionnels, poursuit son développement avec la mise sur le marché du grand public, de périphériques (e.g., Oculus) et d'applications (e.g., Star Wars : Jedi Challenges) dit « immersifs ». Pour autant, la littérature ne recense que peu de modèles et d'outils faisant référence à l'expérience utilisateur ou User eXperience (UX) en Environnement Virtuel Immersif (EVI), et les quelques modèles et outils existants ne considèrent pas l'ensemble des composants de l'UX. Cette thèse vise à proposer et valider un modèle holistique d'UX adapté aux EVI (objectif 1), à construire et valider un questionnaire d'UX opérationnalisant le modèle (objectif 2) et à utiliser le questionnaire validé dans le cadre d'une entreprise internationale, éditrice d'applications immersives dans le domaine ludo-éducatif (objectif 3). Le modèle « Immersive Virtual Experience Model » (IVEM) que nous proposons est multidimensionnel. En effet, il regroupe non seulement les facteurs intrinsèques à l'EVI (i.e., largeur du champ visuel, fréquence d'image, niveau d'interactivité, feedback du contenu 3D) et les facteurs propres à l'utilisateur (i.e., expérience précédente) impactant l'UX, mais aussi les composants caractérisant l'UX référencés dans la littérature (i.e., présence, immersion, engagement, flow, utilisabilité, compétences, émotions, conséquences de l'expérience, jugement, adoption de la technologie). Le modèle IVEM validé via cinq études expérimentales confirme les effets des facteurs sur les composants déjà identifiés dans la littérature et fait apparaître de nouvelles relations entre les composants jusqu'alors non démontrées. Notre questionnaire « Immersive Virtual Experience Questionnaire » (IVEQ) opérationnalise les dix composants de notre modèle, à travers des items provenant de questionnaires validés et répertoriés dans la littérature. Le questionnaire IVEQ validé à travers une étude expérimentale conduite sur 152 participants, est composé de 68 items : 9 items de présence, 3 items d'engagement, 5 items d'immersion, 10 items de flow, 11 items d'émotion, 6 items de compétence, 9 items de jugement, 8 items relatifs aux conséquences de l'expérience et 7 items concernent l'adoption de la technologie. Le questionnaire validé a été expérimenté chez un éditeur de solutions immersives, l'entreprise EON Reality, pour assister la conception de l'application ludo-éducative King Tut VR2, qui mobilise deux périphériques de réalité virtuelle : le casque VRONE et la salle immersive iCube.
Fichier principal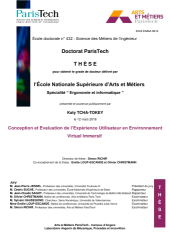 TCHA_TOKEY.pdf (6.5 Mo)
Télécharger le fichier
Origin : Version validated by the jury (STAR)