Multiscale modelling of the behavior and damage of 3-D woven composites. Development of numerical tools to aid the conception of woven structures
Modélisation multiéchelle du comportement et de l'endommagement de composites tissés 3D. Développement d'outils numériques d'aide à la conception des structures tissées.
With their large flexibility of design , 3D woven composites can provide mechanical properties tailored specificially to structural needs. However, the architectural complexity of woven reinforcements presents serious challenges when predicting properties, behaviours and damage processes. The present work deals with these challenges and seeks to develop numerical tools which are able to foresee the mechanical characteristics of this kind of materials. For this purpose, a multiscale approach, which combines experimental tests and numerical simulations, has been adopted. This approach allows, simultaneously, to take into account the loads and composite behavior, at the macroscopic scale, also the reinforcement geometry and the material heterogeneities which are only visible at the mesoscopic scale. The experimental investigation has been carried out to characterize the behaviour of an 2.5D interlock composite and its constituents. Examinations of the damage mechanisms have also been performed, using tomography and the interzone concept, for this woven composite under loadings in tension and combined tension and bending. With regards to the numerical modeling part, the ultimate degradation of the composite was simulated by cutting the reinforcement yarns with a failure criterion, previously reported, on a 3D representative cell of the experimental composite. For the two kinds of macroscopic loadings, the locations, orientations and kinetics of the damage were found to be fully in agreement with the experimental results. The influence of the architectural parameters on the failure criterion was then evaluated by finite element calculation. Consequently, it has been possible to proposed optimized architectures and make a camparison, for the two macroscopic loadings, with the 2.5D interlock woven composite. Still motivated to improve the prediction of the behaviour of woven composites, this work has also been on developing a finer modeling approach to the understanding of damage mechanisms. A stochastic approach was therefore introduced to the failure criterion using a Weibull statistical distribution. In addition, matrix cavitation has also been taken into account in the modelling. This damage mechanism was simulated using the GTN (Gurson-Tvergaard-Needleman) model. Finally, model reduction techniques have been applied to lower the cost of computing multiscale modeling in order to identify, for example, material properties by an inverse method or to simulate fatigue tests.
Les composites tissés 3D, à l'aide de leurs grandes libertés de conception, peuvent fournir des propriétés mécaniques adaptées aux besoins spécifiques d'une structure. La complexité architecturale de ces matériaux induit néanmoins des propriétés, des comportements ainsi que des endommagements très difficiles à prédire. Les travaux présentés dans ce manuscrit s'inscrivent directement dans cette problématique et cherchent à développer des outils permettant, par simulation numérique, de prévoir les caractéristiques mécaniques de ce type de matériaux. Afin de répondre à cet objectif, une approche multiéchelle, alliant essais expérimentaux et simulations numériques, a été adoptée. Cette démarche permet, en appliquant des sollicitations réelles, de considérer la géométrie des renforts et les hétérogénéités du matériau, observables à l'échelle mésoscopique, qui sont responsables du comportement macroscopique du composite tissé. Le travail d'investigation expérimentale s'est attaché à caractériser le comportement d'un composite interlock 2,5D et des ses constituants ainsi que les mécanismes et cinétiques de rupture, pour des sollicitations de traction/flexion, grâce à des observations tomographiques aux rayons X et au concept d'interzone. En ce qui concerne la modélisation numérique, un critère de rupture permettant de simuler la dégradation ultime du composite, en coupant les fils de renforts, a été présenté et testé sur une cellule représentative du composite expérimentale. Les résultats en termes de localisations, d'orientations et de cinétiques de l'endommagement sont en accord avec les observations expérimentales. Ensuite, après avoir estimé l'influence des différents paramètres architecturaux sur le critère de rupture avec une campagne de calcul éléments finis, des architectures optimisées, pour les sollicitations considérées, ont pu être proposées et comparées à l'interlock 2,5D. Toujours dans l'optique d'une meilleure prédiction du comportement des composites tissés, les travaux se sont également intéressés à une modélisation plus fine des mécanismes d'endommagement. Une approche fiabiliste a donc été introduite sur le critère de rupture à l'aide d'une distribution statistique de Weibull. De plus, un autre mécanisme d'endommagement a aussi pu être pris en compte dans la modélisation en simulant, avec le modèle GTN (Gurson-Tvergaard-Needleman), la cavitation de la matrice. Enfin, des techniques de réduction de modèle ont été employées pour diminuer le coût calcul de la modélisation multiéchelle afin d'identifier, par exemple, des propriétés matériaux par méthode inverse ou de simuler des essais de fatigue.
Fichier principal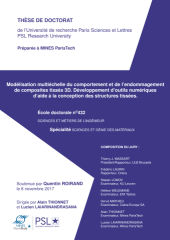 2017PSLEM036_archivage.pdf (16.25 Mo)
Télécharger le fichier
Origin : Version validated by the jury (STAR)