Development of a new generation of ultra-hard coatings. Study of their tribological and corrosion behavior.
Développement d'une nouvelle génération de revêtements ultra-durs. Etude de leur comportement tribologique et anticorrosif.
The aim of this study was to develop and characterize a new generation of wear and corrosion resistant multilayers Cr-N based coatings. Due to the severe conditions that wood cutting tools are subjected in addition to the environmental issue associated with the use of cutting fluids during wood machining, the monolayers that constitute our multilayers system must have specific characteristics. As a result, thin layers of Cr, CrN and CrAlN have been deposited on wood cutting tools steel and silicon substrates by DC reactive magnetron sputtering to be optimized. Then, the optimal monolayerscoatings were combined to develop the Cr/CrN/CrAlN multilayers. that were characterized to determine their physicochemical, mechanical, tribological properties and their corrosion behavior. The results obtained indicated that the application of a multilayer coating can greatly improve the wear and corrosion resistance of a wood cutting tools steel.
Le but de ce travail est de développer et de caractériser une nouvelle génération de revêtements multicouches anti-usure et anticorrosif à base de nitrure de chrome. A cause des conditions de sollicitations sévères auxquelles les outils de coupe sont soumis en plus des enjeux environnementaux liés à l'utilisation des fluides de coupe lors de l'usinage du bois, les monocouches qui constituent notre système multicouches doivent présenter des caractéristiques spécifiques. De ce fait, des couches minces de Cr, CrN et CrAlN ont été déposées sur un acier à outils de coupe du bois et sur des substrats de siliciums par pulvérisation magnétron réactive DC. Nous nous sommes intéressés dans un premier temps à optimiser les monocouches. Ensuite, ces revêtements ont été associés pour élaborer des multicouches Cr/CrN/CrAlN qui ont alors été caractérisées. Nous avons étudié les propriétés physico-chimiques, mécaniques, tribologiques et le comportement à la corrosion de différents revêtements multicouches. Les résultats obtenus indiquent que l'application d'un revêtement multicouches pouvait apporter des améliorations considérables à la résistance à l'usure et à la corrosion des outils de coupe du bois.
Fichier principal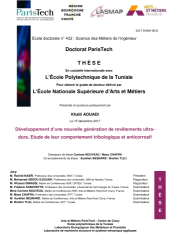 AOUADI.pdf (4.86 Mo)
Télécharger le fichier
Origin : Version validated by the jury (STAR)