Carbon accounting's performativity : from rules' construction to carbon management's "dispositifs"
Performativité de la comptabilité carbone : de la construction des règles aux dispositifs de management du carbone
Since sustainable development has spread, management tools have been developed in companies in order to tackle this problem. For climate change, the goal is to reduce greenhouse gas emissions. To do that, carbon markets, carbon taxation and limits of emissions are traditional policy tools. Less known, carbon accounting has been developed in order to assess greenhouse gas emissions, make it visible and therefore to make it possible to reduce them. However carbon accounting's effects remain mostly unknown. In this thesis, I address collective action problem around this tool in a managerial perspective. Therefore I tackle carbon accounting's performativity by analyzing hidden model which is embedded in it and by studying its managerial effects. My methodology rests upon a qualitative research by using case studies specifically. I explain first that there are different logics behind the common term "carbon accounting": an engineering and a financial one. Managerial effects are also varied: a strategy oriented toward the emission reduction is sometimes settled but mostly other effects are created (claim for more and more transparency, etc.). Finally I propose theoretical contributions (performativity), empirical ones (ADEME and companies' reflections) and methodological ones (performativity analysis through managerial tools).
Avec l'essor du développement durable, des instruments de gestion ont été déployés dans les entreprises afin d'aborder cette problématique. Sur le climat en particulier, où le but est de réduire les émissions de gaz à effet de serre, les marchés du carbone, la fiscalité carbone et les normes d'interdiction constituent les instruments classiques de politique publique. A leurs côtés, la comptabilité carbone, plus confidentielle, a été développée pour rendre visible et estimer ces émissions afin de permettre d'enclencher des actions de réduction. Toutefois ses effets sont actuellement largement méconnus : comment les acteurs en entreprise se sont-ils saisis de cet instrument ? Nous adoptons dans cette thèse une perspective gestionnaire pour nous intéresser aux enjeux d'action collective qui entourent cet objet. Nous questionnons alors la performativité de la comptabilité carbone en proposant d'une part d'analyser le modèle implicite qu'elle véhicule et en étudiant d'autre part ses implications managériales. Pour cela, notre méthodologie repose sur une démarche qualitative et propose notamment des études de cas. En déconstruisant l'objet comptabilité carbone, nous montrons que les différents outils développés sous ce terme générique présentent en réalité des identités différentes, relevant ainsi soit d'une logique ingénierique, soit financière. Les implications managériales qui en découlent sont diverses : si la comptabilité carbone s'inscrit parfois dans une stratégie orientée vers la réduction d'émissions (sous certaines conditions dont nous proposons un modèle explicatif), d'autres effets induits existent (développement d'une bureaucratie, exhortation à la transparence, etc.). Cette thèse présente finalement des contributions théoriques (performativité), empiriques (réflexivité pour les entreprises et l'ADEME), et méthodologiques (analyse de la performativité par les instruments de gestion).
Fichier principal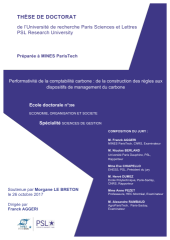 2017PSLEM055_archivage.pdf (5.03 Mo)
Télécharger le fichier
Origin : Version validated by the jury (STAR)