Design of a knowledge management system for a SME.
Conception d'un système de management des connaissances à destination d'une PME
ABSTRACT : This thesis focuses on the creation of a knowledge management system (KMS) design method for SMEs. Knowledge management (KM) can indeed be profitable to SMEs, but existing frameworks that take their specificities and needs into account face several problems. We thus interested ourselves in how to design a sustainable and adapted KMS for a SME? A literature study hinted 2 hypotheses. The first is that the characteristics and the needs of the SME can be used to choose KM tools and practices adapted to a SME, and build a custom made KMS. The second concerns the need to guide the designer and to involve the end user in the design process, in order to make the KMS sustainable and adapted. To tackle this problem, we designed a 3-step method. The first step consists in auditing the company's important characteristics in regard to KM and its needs. The second step offers a tools and practice database and a selection process based on the company audit. The selected tools and practices are then used to design a tailor-made KMS while taking resources into account and involving end users. The third step consists in implementing the KMS in the firm, training the users and allowing them to perform the necessary evolutions according to emerging needs. This method was applied in Sysnav, a 25 employees SME, and resulted in the design of a well-adapted KMS.
RÉSUMÉ : Le travail réalisé dans le cadre de cette thèse porte sur la création d'une méthode de conception de systèmes de management des connaissances (KMS) pour les PMEs. En effet, le management des connaissances (KM) peut leur être très profitable, mais les méthodes permettant de prendre en compte leurs spécificités et leurs besoins se heurtent à plusieurs problèmes, et ne sont donc pas bien adaptées. Nous nous sommes donc demandés comment concevoir un KMS pérenne et adapté pour une PME ? Un état de l'art nous a permis de poser 2 hypothèses. La première porte l'utilisation des caractéristiques et les besoins d'une PME pour sélectionner des outils et pratiques de KM adaptés à l'entreprise, et ainsi construire KMS sur mesure. La seconde porte sur l'accompagnement du concepteur et l'implication des utilisateurs finaux du KMS tout au long de la démarche de conception, de manière à rendre le KMS pérenne, fonctionnel et adapté à l'entreprise. Pour répondre à cette problématique nous proposons une méthode en 3 étapes. La première permet d'auditer l'entreprise sur ses caractéristiques importantes vis-à-vis du KM, et d'identifier ses besoins de KM. La seconde étape propose processus de sélection d'outils et de pratiques prenant en comptes les spécificités et les besoins de la PME. Un KMS basé sur les éléments sélectionnés est ensuite conçu en prenant en compte les ressources et en impliquant les futurs utilisateurs, de manière à garantir une bonne adaptation à l'entreprise. La troisième étape consiste à mettre en place le KMS conçu dans l'entreprise, former les utilisateurs, et leur permettre de faire évoluer le KMS en fonction des besoins émergents. Cette méthode a été appliquée à Sysnav, une PME de 25 employés, et a permis d'obtenir un KMS bien adapté à ses besoins.
Fichier principal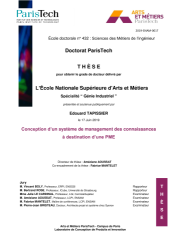 TAPISSIER.pdf (7.92 Mo)
Télécharger le fichier
Origin : Version validated by the jury (STAR)