Contribution to the evaluation of pressure ulcer risk during prolonged contact using finite element modelling.
Contribution à l'évaluation du risque lésionnel lors d'un contact prolongé à l'aide de la méthode des éléments finis. Application à l'étude de l'assise.
The occurrence of Pressure Ulcers (PU) is one of the issues related to physical interactions between a human being and support devices such as exoskeleton. This thesis is part of a collaboration between the Institut de Biomécanique Humaine Georges Charpak and Clinatec which develops EMY, an exoskeleton dedicated to quadriplegic people. However, quadriplegic people are extremely vulnerable to PU due to their loss of sensitivity. The prevention, mainly based on external pressure, remains insufficient to avoid the development of Deep Tissue Injury (DTI) because external pressure doesn't predict internal deformation endured by deep biological soft tissues. Despite the potential of Finite Element (FE) models based on MRI to estimate those internal deformations, their use is jeopardized by resources and time necessary to their implementation. The objective of this thesis is to improve the knowledge about internal deformations in the pelvic region during sitting, through the development of new methodologies to generate FE model based on medical imaging systems which could be used in a clinical routine and which could allow the study of large cohort of subjects. The experimental protocol proposed in this work provided reference data on the load in the sitting configuration and on the morphology of the pelvic region of 22 healthy subjects. It also enabled the validation of both a reference model and a simplified local model. The characterization of both the behavior of soft tissues and of the ischium morphology in clinical environment represents the major challenge to transfer this work.
L'apparition des escarres est une des problématiques soulevées en cas d'interaction physique entre un être humain et un dispositif d'assistance tel qu'un exosquelette par exemple. Cette thèse s'inscrit dans un partenariat entre l'Institut de Biomécanique Humaine Georges Charpak et Clinatec qui développé l'exosquelette EMY destiné à des personnes tétraplégiques. Le risque de survenue d'escarres chez ces personnes est particulièrement élevé du fait de l'absence de sensibilité. La prévention, essentiellement basé sur la pression externe, reste insuffisante pour empêcher la formation des escarres profondes, les pressions externes ne prédisant pas directement les déformations des tissus biologiques internes. Malgré le potentiel des modales Eléments Fins (EF) basés sur l'IRM pour estimer des déformations, leur utilisation est compromise à cause du temps et des ressources nécessaires à leur mise en œuvre. L'objectif de la thèse est de contribuer à améliorer les connaissances des déformations internes des tissus mous subies dans la région pelvienne lors de l'assise en proposant des méthodes de génération de modèle EF à partir de moyens d'imagerie accessibles en clinique et utilisables sur des cohortes importantes de personnes. Le protocole expérimental développé au cours de la thèse a permis de recueillir des données de référence de la morphologie et du chargement mécanique en position assise de 22 sujets sains et de valider à la fois un modèle de référence et un modèle local simplifié. La caractérisation du comportement des tissus mous et de la morphologie ischiatique constitue des perspectives de ce travail pour permettre son transfert vers la clinique.
Fichier principal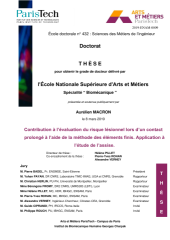 macron.pdf (8.39 Mo)
Télécharger le fichier
Origin : Version validated by the jury (STAR)