Transformations of dairy farming systems in New Zealand : declining self-sufficiency and financialization
Transformations des systèmes de production du lait en Nouvelle-Zélande : perte d'autonomie et financiarisation.
This thesis looks at the evolution of dairy farming and agrarian systems in New Zealand. It explains and characterizes the original path followed by dairy production in this country, which relied on low-input grazing systems until the 90s before moving away from it. It aims also at describing mechanisms underlying the emergence of financialised dairy production structures. Finally, we assess the socio-economic implications of both the shift toward higher-input dairy systems and the financialization of dairy production. This research uses the theoretical framework of Comparative agriculture supplemented by the Anglo-Saxon branch of Agrarian studies. It relied on the analysis-diagnosis the agrarian situation of two small rural areas (the Upper Thames Valley and the Selwyn district). Our work shows how fundamental has been the economic context to explain the focus on low-input grazing systems which characterised dairy farming in the New Zealand until the 90s. It argues that the economic liberalization has been a huge incentive for farmers to shift towards higher-input systems during the 90s. The economic analysis show that low-input systems are nevertheless more efficient in terms of added value and farm income generated per hectare. For its part, financialization permitted to accelerate the development of dairy production, but did not lead to more efficient production systems in terms of added value generated. However, it allows investors who do not take parts into the productive process to capture a significant part of this added value. Finally, the question arises whether or not the agricultural development observed in New Zealand since the 90s is relevant in terms of sustainable development.
Cette thèse porte sur l'évolution des systèmes de production du lait et des systèmes agraires néo-zélandais. Elle vise à expliquer et caractériser l'orientation particulière prise par le développement de la production laitière en Nouvelle-Zélande, laquelle a longtemps reposé sur des systèmes herbagers avant de s'en détourner à partir des années 1990. Il s'agit également de comprendre les mécanismes sous-jacents à l'émergence de structures de production du lait financiarisées. Enfin elle évalue les conséquences socio-économiques de la perte d'autonomie des systèmes de production et de la financiarisation. Cette recherche a mobilisé le cadre théorique de l'Agriculture comparée et s'est également appuyée sur le courant anglo-saxon des « Agrarian studies ». Elle a reposé sur l'analyse-diagnostic de la situation agraire de deux petites régions agricoles (Haute-vallée de Thames et Région de Selwyn). Nos travaux montrent l'importance du contexte économique et politique pour expliquer l'orientation de la production laitière néo-zélandaise vers des systèmes herbagers. Ils mettent également en évidence le rôle central de la libéralisation de l'économie pour expliquer la tendance à la perte d'autonomie observée depuis 1990. L'analyse économique montre que les systèmes herbagers demeurent toutefois performants en termes de création de valeur ajoutée et de revenu agricole par hectare. De son côté, si la financiarisation de la production laitière a permis d'accélérer son développement sur l'île Sud, elle n'a pas conduit à la mise en œuvre de systèmes de production plus performants en termes de création de valeur ajoutée. En revanche, elle amène à ce qu'une part importante de cette valeur ajoutée soit captée par des investisseurs ne prenant pas part au procesus productif. Au final, la question se pose de la pertinence du développement agricole à l'œuvre en Nouvelle-Zélande depuis les années 1990 du point de vue du développement durable.
Fichier principal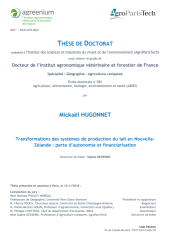 63534_HUGONNET_2018_archivage.pdf (22.66 Mo)
Télécharger le fichier
Origin : Version validated by the jury (STAR)