Prospects for all-ALD processes through the synthesis of thin sulfide and oxide layers for CIGS-type solar cells application.
Exploration de procédés tout-ALD via la synthèse de couches minces à base de sulfures et d'oxydes pour l'élaboration de cellules photovoltaïques de type CIGS.
The goal of this doctoral research project is to use the advantages of the ALD (Atomic Layer Deposition) technique for the synthesis of innovative materials to be used in the future generations of CIGS thin film solar cells. ALD technique allows the deposition in smooth conditions (low temperature, mbar pressure level) of conformal and uniform films, with a high control of the thickness at the atomic layer scale. Due its unique features, it is now widely applied in the field of microelectronics. In photovoltaics, the need to control at smaller scale and more accurately the thickness and the interfaces of the films implies a wide development of ALD in the next years. The main focus of this project is the synthesis of new materials with a fine interface engineering that will be integrated in CIGS devices and allows the elaboration of all-ALD solar cell. The doctoral candidate will pilot a new ALD reactor, and use its new functionalities to synthesize materials from innovative chemical precursors. In parallel, a second ALD reactor equipped with a plasma module will give access to other reactivities and allow further optimization of the interfaces. Understanding the reaction mechanisms involved via in-situ studies (for which two new analytical tools will be implemented by the student during the project) and materials characterization (XRD, SEM/EDX, optical transmission ...) will be compulsory for the success of this project. Finally, those materials will be integrated in CIGS devices, and tested to validate new concepts and allow the development of more efficient photovoltaic devices with reduced cost of atoms. In addition to this, they will be the building blocks of a first all-ALD solar cell.
Ce projet s'inscrit dans le champ thématique «Production durable et énergies renouvelables » de l'ADEME et plus particulièrement dans l'axe « Production, gestion et stockage de vecteurs énergétiques issus de sources renouvelables ». Il est proposé d'utiliser les atouts de la technique de dépôt chimique en phase vapeur par flux alternés (ALD) pour la synthèse de matériaux de haute qualité pour initier des transferts vers des procédés ALD optimisés pour l'industrialisation ainsi que permettre l'élaboration de cellules tout-ALD. Soucieux de comprendre les mécanismes de croissance impliqués, faire avancer les connaissances fondamentales liées à l'ALD et afin d'optimiser au mieux le matériau au dispositif, ce projet possède également un fort caractère exploratoire. Il s'inscrit dans les grands projets de recherches communs de l'IPVF (projet II.B en particulier), et profitera directement des ressources et compétences de l'IRDEP. L'objectif de cette thèse est d'utiliser les atouts de la technique ALD pour la synthèse de matériaux pour applications dans les futures générations de cellules solaires en couches minces CIGS. Cette technique permet le dépôt de films uniformes, couvrants et d'épaisseur contrôlée à l'échelle de la monocouche dans des conditions douces. Grâce à ses caractéristiques, elle connaît un développement spectaculaire dans le domaine industriel pour la microélectronique. Dans le domaine du photovoltaïque, le contrôle à une échelle de plus en plus précise des épaisseurs et des interfaces va également dans le sens d'une utilisation accrue de l'ALD dans les années à venir. Le cœur du projet portera sur la synthèse de matériaux et l'ingénierie fine des interfaces pour à la fois l'intégration dans des dispositifs CIGS, mais aussi l'élaboration de cellules tout-ALD. Le doctorant devra non seulement prendre en main un réacteur de dépôt ALD nouveau au laboratoire, mais surtout mettre à profit ses fonctionnalités pour la synthèse de matériaux par l'utilisation de précurseurs chimiques innovants. En parallèle, il utilisera un autre réacteur ALD équipé d'une assistance plasma qui permettra de diversifier les réactivités et le travail d'optimisation des interfaces. La compréhension des mécanismes réactionnels mises en jeu via des études in-situ (dont deux outils seront implémentés par le doctorant durant ce projet) et les caractérisations des matériaux synthétisés (DRX, MEB/EDX, transmission optique, ...) sera primordiale. En effet, cette dernière combinée à une stratégie adaptée de design des molécules permettront la synthèse de nouveaux matériaux de compositions et structures bien définies et des ingénieries d'interface à l'échelle de la monocouche atomique. Enfin, ces matériaux seront directement intégrés aux cellules CIGS, et testés pour valider les concepts et permettre le développement de dispositifs photovoltaïques plus performants et plus économes en matériau. Ils seront par ailleurs les composants fondamentaux d'une première cellule CIGS tout-ALD.
Fichier principal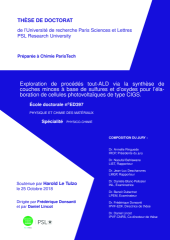 Harold_LE_TULZO_OK.pdf (67.17 Mo)
Télécharger le fichier
Origin : Version validated by the jury (STAR)