Design of oxide contacts and mixed cation hybrid perovskites for highly efficient solar cells.
Conception de contacts oxydes et de pérovskites à cations mixtes pour des cellules solaires hautement efficaces
Perovskite-based solar cells (PSCs) have emerged as the most promising new generation of photovoltaic technology.Organometal trihalide perovskite solar cells (PSC) have aroused widespread academic and commercial interests due to rapid increase in efficiency, which has boosted from 3.8%4 in 2009 to 20.1%5 in 2014. These great achievements are mainly attributed to the unique characteristics of perovskite materials, such as low cost, high photo-to-electric conversion efficiency, high light absorption properties, direct bandgap, high charge- carrier mobility and long electron-hole exciton transport distance (more than 1 µm). 6-8 Perovskite material is soluble, which makes it quite easy and cheap to prepare perovskite solar cells.
Base perovskite-cellules solaires (CSP) ont émergé comme la nouvelle génération la plus prometteuse du photovoltaïque technology.Organometal trihalogénure perovskite cellules solaires (PSC) ont suscité intérêts académiques et commerciaux répandus en raison de rapide accroître l'efficacité, qui a stimulé de 3,8% 4 en 2009 à 20,1% 5 en 2014. Ces grandes réalisations sont principalement attribué aux caractéristiques particulières des matériaux pérovskites, comme le faible coût, haute photo à électrique rendement de conversion, propriétés d'absorption de lumière élevés, bandgap directe, haute charge- la mobilité des porteurs et électron-trou à long transport exciton la distance (plus de 1 um). 6-8 matériau perovskite est soluble, ce qui le rend très facile et pas cher pour préparer solaire perovskite cellules.
Fichier principal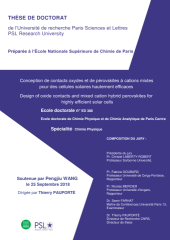 Pengjiu_WANG_OK.pdf (9.18 Mo)
Télécharger le fichier
Origin : Version validated by the jury (STAR)