Constitution of innovation competences in a multinational corporation. Valeo case study.
Dynamique de constitution des compétences d'innovation dans une FMN. Le cas Valeo.
This thesis focuses on the way multinational corporations (MNCs) develop and manage the required competences to sustain their innovation strategy when their market dynamism is shifting towards Asia.The literature presents various models to organize innovation processes globally but does not answer the question of their dynamic constitution based on a given situation.Drawing upon an interactive research conducted within Valeo – a worldwide automotive supplier – this thesis focuses on that dynamic dimension. It sheds light on how (i) China constitutes a disruptive experience for the Western MNC because of the speed and scale of the phenomenon, as well as the context, (ii) the strategy implemented by the MNC in China from Europe has helped to deal with the difficult situation in the short term, but is not the best way to develop the necessary competences locally to enable the local teams to become autonomous.We thus suggest: (i) at the micro level, a new way of designing training programs that involves shifting from a teaching-centered approach to a learning-centered approach, (ii) at the macro level, a trajectory to improve the constitution of R-I-D (Research, Innovation, Development) competences in the global firm, on the one hand in China via the coaching of local trainers and the development of communities of practice, and on the other hand globally via the constitution of an organizational vehicle such as a Corporate University, to address simultaneously learning and talent management issues – both individually & collectively, locally & globally, in-house & in link with the outside world.
La thèse traite de la manière dont des firmes multinationales (FMNs) historiquement occidentales, pilotent la dynamique de constitution des compétences nécessaires pour supporter leur stratégie de croissance et d'innovation, lorsque leur marché bascule depuis l'Europe vers l'Asie.La littérature sur le management de l'innovation dans les FMNs propose différents modèles d'organisation globale des processus d'innovation mais n'aborde pas la question de la dynamique de constitution de ces modèles, à partir d'une situation historique et d'une stratégie d'internationalisation spécifique.La thèse traite de cette question de la dynamique à partir d'une recherche interactive menée au sein de l'équipementier automobile mondial Valeo. Elle montre (i) que l'internationalisation en Chine constitue une triple rupture de vitesse, de volume ainsi que de contexte pour la FMN occidentale historique, (ii) que la stratégie mise en œuvre par la FMN en Chine depuis l'Europe permet de gérer la situation à court terme, mais n'est pas particulièrement propice à la constitution des compétences nécessaires aux équipes locales pour devenir progressivement autonomes.A partir d'un diagnostic des difficultés rencontrées, la thèse propose alors (i) au niveau micro, un modèle de reconception des dispositifs de formation dispensés, de manière à optimiser les apprentissages des collaborateurs chinois et favoriser le développement de leurs compétences, (ii) au niveau macro, une trajectoire d'optimisation du développement des compétences de R-I-D (Recherche, Innovation, Développement) dans la firme-réseau global, d'une part en Chine via la formation de formateurs locaux et la constitution de communautés de pratiques, d'autre part globalement via la constitution d'un véhicule organisationnel de type Université d'Entreprise, qui permettrait d'adresser, ensemble, les problématiques d'identification et d'attrait des talents, de montée en compétence, ainsi que d'engagement et de fidélisation.
Fichier principal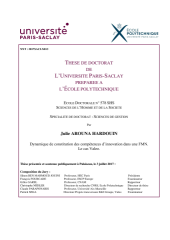 43175_HARDOUIN_2017_archivage.pdf (9.99 Mo)
Télécharger le fichier
Origin : Version validated by the jury (STAR)