Study of changing of adhesion between pans and cereal products during baking according to the surface properties of pan.
Étude de l'évolution des contacts moules / pains de mie au cours de la cuisson en fonction des propriétés de surface des moules
Perfluorinated coatings used as anti-adhesive coatings in bread pans are subjected questions relating to their aging. In this context, the objective of this work was to focus on the consequences of aging of perfluoroalkoxy (PFA) coatings on their anti-adhesive performance. The consequences of loss of anti-adhesive properties were studied in terms of chemical risks and neoformed compounds in bread crust during baking in contact with a pan were investigated. To do so, pans were aged under industrial conditions, then a method was specifically developed for this study to measure forces during depanning step. Moreover, several bread formulas were tested. The aim was to determine the impact of physical state of lipids (rapeseed oil versus concrete fat) and of other components as proteins and fibers (by adding whole-wheat flour) on depanning step.Aging in industrial conditions seems to only affect physical properties (roughness) of PFA coatings. These modifications of the pan surface did not led to depanning problem at the end of the baking step. Moreover, the chosen reactivity markers evolve slightly with aging, whatever the bread formula used, even if a slightly increase of CML quantity with aged pan was highlighted.Furthermore, in order to characterize the adhesion of wheat dough depending on the temperature, a new methodology was developed. It consisted in measuring the adherence forces under experimental simulations on rheometer. We selected model glass surfaces which had chemical properties close to the properties of PFA coatings. We showed that adhesion and viscoelastic properties evolve in the same way with temperature, and interfacial properties also contribute to evolution of dough adhesion. Wheat dough tend to adhere more easily on hydrophilic surfaces. Anyway, on these surfaces, failure may become cohesive from a specific temperature, showing a decrease of the dough surface hydrophobicity.
Les revêtements perfluorés sont utilisés comme anti-adhésifs dans des moules de cuisson pour pains de mie. Ils font l'objet de diverses interrogations relatives à leur vieillissement. Dans ce contexte, la problématique de ce travail a porté sur l'étude des conséquences du vieillissement de revêtements perfluoroalkoxy (PFA) sur leurs performances anti-adhésives. De plus, les conséquences de la perte des propriétés anti-adhésives des revêtements ont été évaluées en termes de risque chimique. La production de néoformés dans la croûte de pain au contact des moules a donc été étudiée. Pour répondre à la problématique, des moules ont été vieillis en conditions industrielles, puis à partir d'un protocole mis au point spécifiquement dans le cadre de cette étude, des mesures de forces ont pu être réalisées pendant le démoulage des pains. Par ailleurs, plusieurs formules de pains de mie ont été testées. Il s'agissait d'étudier d'une part l'effet de l'état physique des lipides sur le démoulage. De plus, l'effet d'autres constituants tels que protéines et fibres a été étudié (utilisation de farine complète).Le vieillissement en conditions industrielles n'affecterait que les propriétés physiques (rugosité) des revêtements PFA. Ces modifications de surface n'ont cependant pas entraîné de problème de démoulage en fin de cuisson. Par ailleurs, les marqueurs choisis de la réactivité (furane, acrylamide et CML) évoluent peu avec le vieillissement, et ce quelle que soit la formule. La CML montre toutefois une tendance à augmenter avec le vieillissement, ce qui pourrait malgré tout indiquer un effet du vieillissement des revêtements sur la réactivité du produit.Par ailleurs, pour caractériser plus spécifiquement l'adhésion de pâtes de farine au cours de la cuisson, une méthodologie basée sur des tests d'adhérence en simulateur expérimental sur rhéomètre a été mise au point. Ces tests d'adhérence ont été effectués avec des surfaces modèles en verre, choisies pour être représentatives des propriétés chimiques des revêtements PFA. Il apparaît que les propriétés adhésives des pâtes évoluent de la même façon que les propriétés viscoélastiques en fonction de la température. Par ailleurs, les propriétés interfaciales contribuent pour une part à l'évolution d'adhésion des pâtes avec la température. Les pâtes tendent à adhérer plus facilement sur des surfaces hydrophiles. D'ailleurs, sur ces surfaces, les ruptures peuvent devenir cohésives au-delà d'une certaine température, indiquant une diminution de leur hydrophobicité de surface.
Fichier principal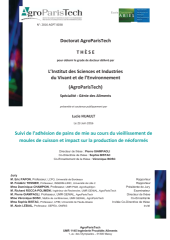 48839_HUAULT_2016_archivage.pdf (7.98 Mo)
Télécharger le fichier
Origin : Version validated by the jury (STAR)