Do smear-ripened cheese microflora survive to digestive stress and can it have immunomodulatory properties?
Les micro-organismes du microbiote fromager survivent-ils à la digestion et peuvent-ils avoir un effet immunomodulateur sur l'hôte ?
Worldwide, the Food Industry uses a broad range of microorganisms while making fermented products, like cheese, most of microorganisms being alive when the food is consumed. Our work aimed at studying the digestive stress response of the surface-ripened cheese microflora and at characterizing their potential immunomodulative properties.In the first part of this work, we investigated the resistance to digestive stress of a selection of 35 microorganisms (bacteria, yeasts and one fungus). We designed a three-step in vitro digestive batch experiment mimicking stresses encountered in (i) the stomach, (ii) the duodenum, (iii) the stomach followed by the duodenum. Alongside, we determined in vitro the microorganisms immunomodulating properties using PBMCs. Batch stress experiments results showed a strong resistance of yeasts to both gastric and duodenal stresses. Bacteria results were more contrasted. PBMCs profiles showed an overall anti-inflammatory response for yeasts (with the exception of one species) while bacteria profiles were fairly different, with both pro- and anti-inflammatory profiles among the same species.The second part of the work consisted in developing a Dynamic Gastro-Intestinal Digestive system (DIDGI) and to experiment on a reduced selection of microorganisms and to assess the influence of the growth under real ripening conditions on the ability of microorganisms to withstand digestive stress. Alongside, we tracked the microorganisms' ability to survive the mouse digestive tract. Some microorganisms grown in cheeses showed fairly different responses during DIDGI experiments compared to lab-cultured microorganisms. A significant part of microorganisms was able to survive the digestive tract of mice.The third part of the work dealt with the microbial ecosystems' influence on the host's immune responses by (i) designing experimental smear-ripened cheeses with mix of microorganisms that had rather pro- or rather anti-inflammatory immunomodulatory profils and (ii) fed the ripened cheeses to mice with standardized microbiota. The effect of cheeses consumption on two different models of acute colitis was investigated. Results showed that both cheeses tend to exacerbate the symptoms in one of the colitis model and that the "pro-inflammatory" cheese significantly aggravated the symptoms of the second model of colitis.The fourth and last part of the work consisted in characterizing the molecular response to a similar in vitro batch digestive stress used in the first part of the work. Therefore, we selected a Gram-positive bacterium and a Gram-negative bacterium and used RNAseq for transcriptome analysis. A preliminary analysis of the results showed that both organisms were able to up- or down-regulate a major part of their metabolism, using both similar mechanisms and specific response per bacterium.
L'industrie agroalimentaire utilise une grande diversité de micro-organismes lors de la fabrication d'aliments fermentés tels que le fromage. La plupart de ces micro-organismes sont vivants lors de leur ingestion. En partant de ce constat, notre travail a eu pour objectif d'étudier la réponse au stress digestif de micro-organismes issus du microbiote de fromage à pâte molle ainsi que de caractériser leur potentiel immunomodulateur.La première partie de ce travail a consisté à investiguer la résistance au stress digestif d'une sélection de 35 micro-organismes (bactéries, levures et un champignon filamenteux). Pour cela, nous avons conçu une méthode de digestion in vitro en trois étapes consistant en une exposition aux stress rencontrés respectivement dans (i) l'estomac, (ii) le duodenum, (iii) l'estomac puis le duodénum. Dans le même temps, nous avons déterminé le potentiel immunomodulateur in vitro de ces micro-organismes en utilisant des PBMCs. Les résultats ont montré une forte résistance aux stress digestifs in vitro de la part des levures. Les bactéries ont donné des résultats plus contrastés. Les profils PBMCs ont donné les levures comme plutôt anti-inflammatoires (à l'exception d'une espèce) tandis que les bactéries ont répondu de manière plus contrastée avec des profils parfois différents au sein d'une même espèce.La seconde partie des travaux a permis de développer le Digesteur Dynamique Gastro-Intestinal (DIDGI) et à utiliser une sélection réduite de micro-organismes pour aborder l'influence de leur croissance en condition d'affinage sur leur capacité à résister au stress digestif. Dans le même temps, nous avons évalué la résistance à la digestion de ce même microbiote in vivo (modèle murin). La croissance en fromage a eu une incidence sur certaines bactéries et levures quant à leur capacité à survivre aux expérimentations DIDGI. Une part importante des micro-organismes utilisés a conservé sa viabilité après ingestion par des souris.La troisième partie de ce travail a consisté à (i) fabriquer deux fromages dont les microbiotes possédaient, a priori, des profils immunomodulateurs opposés puis à (ii) nourrir des souris auxquelles nous avions provoqué deux types de colites. Dans le premier modèle, les symptômes ont été (en tendance) légèrement exacerbés, quel que soit le profil immunomodulateur du fromage. Dans le second modèle, le fromage "pro-inflammatoire" a significativement aggravé les symptômes de la colite.La quatrième et dernière partie des travaux a consisté à caractériser la réponse moléculaire d'une bactérie à Gram-positif et d'une bactérie à Gram-négatif. Pour cela, le même type d'approche "stress digestif batch" que dans la première partie de la thèse, a été retenue, couplée à une analyse du transcriptome après séquençage RNAseq. Les résultats ont montré que les deux bactéries pouvaient sur-réguler ou sous-réguler une part importante de leur métabolisme. D'après cette analyse préliminaire, nous avons identifié des mécanismes communs aux deux bactéries ainsi qu'un certain nombre de réponses semblant plus spécifiques au sein de chacune des deux espèces.
Fichier principal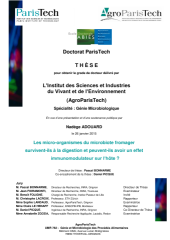 42420_ADOUARD_2015_archivage.pdf (12.99 Mo)
Télécharger le fichier
Origin : Version validated by the jury (STAR)