Building collective housing in individual housing kingdom : How to improve urban and architectural quality in small peri-urban towns in Ile de France?
Construire des immeubles au royaume des maisons La densification des bourgs périurbains franciliens par le logement collectif : modalités, intérêts et limites
Gradually, densification has been regarded in public policies as an optimal urban planning model, which asked French communes to strengthen their legislation. At the same time, the peri-urban was the object of critical speeches. However peri-urban is increasingly seen as a mature territory, and its perception has changed, especially because researches like the BIMBY program shown that peri-urban areas can be densifiable.We study another type of densification than the BIMBY, which focused on the densification of individual habitat by individual housing. We are interested in the densification of the Parisian peri-urban, especially of its local centralities — the towns — by the construction of collective housing.Even if peri-urban is mostly seen as the place of the individual housing, a significant part of collective housing remains, and new buildings are built, influenced by the laws SRU and ALUR, and by the SDRIF. We have identified 130 buildings (more than 2800 apartments) in nearly 250 municipalities in the Parisian peri-urban built between 2009 and 2013. We analyzed their architecture, the transformations of the neighborhoods, but also how the governance managed to realize these constructions, breaking with the traditional way of building in these towns. Last but not least, we interrogated almost one hundred inhabitants of these new buildings to understand why they chose to live – and if they chose to live – in an apartment of a peri-urban commune.In peri-urban communes of the Ile-de-France region, densification by collective housing remains complicated (high cost, lack of engineering, local protests). Moreover, densification is not always conducive to architectural and urban quality: the resulting constructions are reflected in a new architectural standard, pastiching, which often flouts its inscription in a local urban and landscape project. Despite these difficulties, which will be explained, we will also show densification achievements in the peri-urban area that have led to an improvement in the quality of life in these towns. We will indeed try to demonstrate the conditions of a high quality densification in the parisian péri-urban.
Alors que le périurbain est souvent vu comme le royaume du logement individuel, le parc de logement des communes périurbaines se diversifie en Ile-de-France, notamment parce que la densification s'y impose de plus en plus comme mode d'urbanisation (Fonticelli et Moquay, 2018). Ces communes se trouvent donc contraintes de construire autrement, et notamment de réaliser du logement collectif. Celui-ci y représente 40% des opérations de construction de logement (Sit@del 2009-2013).Diversifier ce parc en proposant de plus petits logements ainsi qu'une offre locative permettrait alors de répondre aux besoins des jeunes ménages, des familles monoparentales ou des personnes âgées qui n'ont pas nécessairement les moyens ou l'envie d'habiter dans du logement individuel. Ce serait un moyen de favoriser la maturation périurbaine que connaissent déjà des communes de l'Ouest francilien (Berger, 2014), tout en de dynamisant la commune et en favorisant la transition démographique, souvent souhaitée par les élus.Pourtant, la densification est loin d'être évidente sur ces communes : les difficultés à densifier sont réelles dans ces communes. Le coût direct de la densification pour la collectivité est le plus souvent très élevé, et le marché laissé libre ne produirait que des maisons individuelles, exception faite de certaines communes gentrifiées attractives pour des promoteurs. L'argent public, provenant aussi bien des communes, que des conseils départementaux ou des PNR devient ainsi indispensables pour construire en densification dans ces communes : la densification en collectif est largement subventionnée par la puissance publique dans les bourgs.Le manque d'acteurs pour réaliser ces opérations est également un frein, que ce soit en termes d'ingénierie pour aider à réaliser la construction qu'en termes d'opérateurs ou de promoteurs, même si certaines structures se repositionnent – PNR, conseils départementaux par le biais de leurs agences – et permettent à certaines communes de porter des projets innovants.Dès lors, sur ces bourgs périurbains, en dehors de certaines communes gentrifiées, la plupart des constructions revêtent un style standardisé : les immeubles de petit collectif utilisent le plus souvent des formes architecturales dites de « néo-village » qui imitent l'architecture traditionnelle des bourgs sans hésiter à la détourner. Au-delà, l'architecture des centres-bourgs se doit être la plus consensuelle possible pour ne pas rajouter des crispations complémentaires pour les habitants. Elle se traduit par des façades sur rue, peu rythmées, qui interdisent les balcons et les terrasses auxquelles les habitants aspirent. Or, dans ces communes où habiter dans une maison est la norme, et où le rêve d'un jardin est important, ces appartements peinent à répondre aux aspirations de leurs habitants.En cela, la densification révèle un côté irréconciliable entre les attentes des habitants et celles des élus/architectes. L'investissement important que la densification demande pour se réaliser – aussi bien en termes de risque politique que d'argent public – en comparaison à la satisfaction en demi-teinte par laquelle elle se traduit, une fois achevé, invite finalement à se remettre en la pertinence des politiques de densification poussées sur les territoires périurbains, notamment lorsqu'elle s'opère à marche forcée.
Fichier principal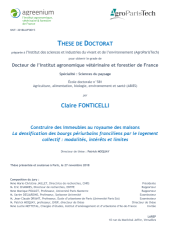 71740_FONTICELLI_2018_archivage.pdf (220.65 Mo)
Télécharger le fichier
Origin : Version validated by the jury (STAR)