Studies of cognitives factors binded to digitals tools for the upstreams phases of the conception.
Études des facteurs cognitifs liés aux outils numériques pour les phases amont de la conception
The research made during this thesis have the subject to study of how digital tools can enhance and assist innovation and more precisely ideation activities and creativity. These works are a part of a research program initiate by the industrial chair Time To Concept which study and identify the opportunities of new technologies in innovation activities. To conduct this project, three research areas have been defined : Human, Managerial and technological. This thesis focus on the technological area while integrating user experience aspects. In order to give the perfect tool to fit with the different creativity activities, we will study which interfaces and experiences are to favour.These works focused on two topics : how to enhance creativity through user experience, and which tool features used for creativity allow to have a better communication of the different productions. We studied these topics through two experimentations. The first one focused on the impact of our environment on cognitive load and creativity. This study allows us to build a first link between cognitive science and creativity applied to design of new objects. The second experiment extends the study of this link with the study of ergonomics and hedonic qualities of four tools, which can be used during different steps of innovation, on creativity. Moreover, this study allows us to build a first link between production communicability and user experience. These two studies us to observe that hedonic and ease of use characteristics are to favour in order to favour creativity and facilitate idea communication. These two experiences help us to build a first model in order to define the different links between creativity and user experience and the pending activities.
Les travaux de recherche effectués durant cette thèse ont pour sujet l'étude de l'utilisation des outils numériques pour accompagner l'innovation et plus précisément les périodes d'idéation et de créativité. Ils s'inscrivent dans un programme de recherche initié par la chaire Time To Concept qui a pour sujet d'étudier et d'identifier les opportunités offertes par les technologies émergentes lors d'activités d'innovation. Pour cela, trois axes ont été définis : un axe humain, un axe organisationnel et un axe technologique. Cette thèse se positionne sur l'axe humain, avec un fort lien avec l'axe technologique.Dans l'objectif de proposer l'outil idéal pour les différentes activités constituant la créativité, nousavons étudié quelles sont les interfaces et expériences à favoriser.Ces travaux de recherche se sont intéressés à deux problématiques : (i) quelles sont les effets de notre environnement et de nos outils sur la créativité et (ii) comment nos outils influencent la compréhension de nos idées lorsque ces dernières sont conceptualisées. Nous avons répondu à ces deux problématiques à l'aide de deux études expérimentales. La première expérience a permis d'étudier l'impact de l'environnement et de la charge cognitive sur la créativité des utilisateurs. Nous avons complété notre réponse à la première problématique à l'aide d'une seconde expérimentation où nous avons confronté quatre outils, représentant un panel de solutions pouvant être utilisées dans des activités d'innovation, aux performances de créativité. L'évaluation de l'expérience utilisateur nous a permis de constater des relations entre les qualités hédoniques et ergonomiques de ces différents outils et la créativité. En particulier, nous avons constaté que les qualités hédoniques des outils favorisent la divergence créative et que les qualités ergonomiques avantagent la production d'idées. Cette expérience a aussi pour objectif de répondre à notre deuxième problématique portant sur la capacité des outils à favoriser la communicabilité des idées. Nos résultats laissent apparaître que les éléments contextuels ajoutés dans l'environnement de l'idée favorisent la communicabilité. Les résultats obtenus dans nos expérimentations nous permettent de proposer un modèle permettant d'accompagner le choix de l'outil en fonction de la tâche de créativité réalisée.
Fichier principal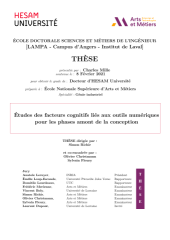 mille.pdf (6.96 Mo)
Télécharger le fichier
Origin : Version validated by the jury (STAR)