Complex systems architectural design through an energetic approach : Application to aerospace domain.
Conception Architecturale de Systèmes Complexes par une Approche Energétique : Application au Domaine Aéronautique.
The architectural design of complex systems presents many difficulties and conventional design methods can only provide a limited response to the current issues. Many methodologies offer solutions by focusing on one facet of the development process or a specific design criterion. Globalization and population growth require high production rates from manufacturers, while new consumption patterns require a high degree of agility to adapt quickly to customer needs. These constraints highlight the limits of the current design paradigm and highlight the issues arising from the product development process. The decorrelation between the different views of the product (functional, physical and industrial) encourages the appearance of inconsistencies and makes an already highly constrained process more complex. This research proposes to link the different views of the product during its development in order to reinforce the robustness of the design, to promote collaborative design and to improve the traceability of the design choices during the development of a product. The CTOC (Converter, Transmitter, Operator, Control) approach formalized here echoes this proposal by offering a robust design framework allowing to build simultaneously the functional and physical views of the product. Developments of the CTOC method are presented in this thesis in order to respond to the issues identified in the context of the study but also to provide a design environment conducive to architectural innovation.The design choices made during the architectural design phase impact the whole development and the consequences of these choices may not appear until much later. Thus, the industrialization phase of the product may reveal unsatisfactory industrial performance, the origin of which can be traced back to design choices made at the beginning of the development process. The integration of industrial performance evaluation criteria as early as the preliminary design phase allows designers to discriminate candidate architectures very early on and to evaluate their industrial performance. The work presented in this thesis brings developments to the CDfA (Conceptual Design for Assembly) method which focuses on the evaluation of the industrial performance of assembly and proposes a method that can be extended to other criteria in the future.The identification of a strong synergy between the CTOC and CDfA approaches has allowed to group them into a global architectural design methodology. The use of the CTOC model as a basis for the application of the CDfA approach brings many advantages and in particular a greater mastery of a system despite its complexity. The global CTOC model fulfils the necessary conditions for the application of the industrial performance assessment methodology described by the CDfA approach. This work formalizes a global architectural design methodology linking the functional, physical and industrial views of the product and applicable from the preliminary design phase.
La conception architecturale des systèmes complexes présente de nombreuses difficultés et les méthodes de conception classiques ne peuvent apporter qu'une réponse limitée aux problématiques actuelles. De nombreuses méthodologies proposent des solutions en se concentrat sur une facette du processus de développement ou un critère de conception spécifique. La mondialisation et l'augmentation de la population imposent aux industriels des cadences de production élevées, tandis que les nouveaux modes de consommation leur demandent une forte agilité pour s'adapter rapidement aux besoins des clients. Ces contraintes mettent en évidence les limites du paradigme de conception actuel et exacerbent les problématiques issues du processus de développement du produit. La décorrélation entre les différentes vues du produit (fonctionnelle, physique et industrielle) favorise l'apparition d'incohérences et complexifie un processus déjà très contraint. Ces travaux de recherche proposent de lier les différentes vues du produit au cours de son développement afin de renforcer la robustesse de la conception, favoriser la conception collaborative et améliorer la traçabilité des choix de conception au cours du développement d'un produit. L'approche CTOC (Convertisseur, Transmetteur, Opérateur, Contrôle) formalisée ici fait écho à cette proposition en offrant un cadre de conception robuste permettant de construire simultanément les vues fonctionnelle et physique du produit. Des développements de la méthode CTOC sont présentés dans cette thèse afin de répondre aux problématiques identifiées dans le contexte de l'étude mais aussi pour offrir un environnement de conception favorisant l'innovation architecturale.Les choix de conception réalisés durant la phase de conception architecturale impactent l'ensemble du développement et les conséquences de ces choix peuvent n'apparaitre que bien plus tard. Ainsi, la phase d'industrialisation du produit peut révéler une performance industrielle insatisfaisante dont l'origine remonte à des choix de conception réalisés au début du processus de développement. L'intégration de critères d'évaluation de la performance industrielle dès la phase de conception préliminaire permet aux concepteurs de discriminer très tôt des architectures candidates et d'évaluer leur performance industrielle. Les travaux présentés dans cette thèse apportent des développements à la méthode CDfA (Conceptual Design for Assembly) qui se concentre sur l'évaluation de la performance industrielle d'assemblage et propose une méthode pouvant être étendue à d'autres critères dans le futur.L'identification d'une forte synergie entre les approches CTOC et CDfA a permis de les regrouper en une méthodologie de conception architecturale. L'utilisation du modèle CTOC comme base d'application de l'approche CDfA apporte de nombreux avantages et notamment une plus grande maîtrise d'un système malgré sa complexité. Le modèle CTOC global remplit les conditions nécessaires à l'application de la méthodologie d'évaluation de la performance industrielle décrite par l'approche CDfA. Ces travaux formalisent une méthodologie globale de conception architecturale liant les vues fonctionnelle, physique et industrielle du produit et applicable dès la phase de conception préliminaire.
Fichier principal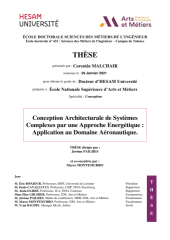 malchair.pdf (6.35 Mo)
Télécharger le fichier
Origin : Version validated by the jury (STAR)