The circular economy, an innovation for territorial development?
L'économie circulaire, une innovation au service du développement territorial ?
The circular economy has emerged as a new economic model to face the current challenges of the linear economic system. Today, it has been adopted in several countries as a lever for changing practices and models of economic development, its approaches are increasingly being tested in the territories, in a context of socio-ecological and energy transition. The objective of the thesis is to determine to what extent the circular economy can constitute, by its innovative character, an opportunity for territories to implement territorial development processes. The analytical framework is based on different theories and quantitative and qualitative methods in order to better understand the implications of territorial anchoring and the importance of governance mechanisms for the implementation of circular economy strategies in territories. The results show a local growth of the circular economy, in line with the increasingly important issues at stake in terms of public policies for employment and competitiveness of the economy. They indicate that the current challenge is not only a question of technological innovations around resource efficiency and value creation, but also of hybridisation of actions and the ability to involve various stakeholders to cooperate for the development of positive territorial externalities. The example of methanisation highlights the role of the local context in the capacity to generate these new activities which, through their economic and social virtues, allow the creation of new links and sustainable processes, thanks to the activation or reinforcement of proximities and their potential.
L'économie circulaire se présente comme un nouveau modèle économique permettant de faire face aux défis actuels du système économique linéaire. Aujourd'hui reprise dans plusieurs pays comme un levier d'évolution des pratiques et des modèles de développement économique, ses démarches sont de plus en plus expérimentées dans les territoires, dans un contexte de transition socioécologique et énergétique. L'objectif de la thèse est de déterminer dans quelle mesure l'économie circulaire peut constituer, par son caractère innovant, une opportunité pour les territoires de mettre en oeuvre des processus de développement territorial. Le cadre d'analyse mobilise différentes théories et méthodes quantitatives et qualitatives dans le but de mieux comprendre les implications de l'ancrage territorial et l'importance des dispositifs de gouvernance pour la mise en place des stratégies d'économie circulaire sur les territoires. Les résultats montrent une croissance locale de l'économie circulaire, en phase avec les enjeux de plus en plus importants en termes de politiques publiques en faveur de l'emploi et de compétitivité de l'économie. Ils indiquent que le défi actuel n'est pas seulement une question d'innovations technologiques autour de l'efficience des ressources et de la création de valeur, mais aussi d'hybridation des actions et de capacité à faire coopérer des parties prenantes variées pour la mise en oeuvre d'externalités territoriales positives. L'exemple de la méthanisation permet de mettre en évidence le rôle du contexte local dans la capacité à générer ces activités nouvelles qui, par leurs vertus économiques et sociales contribuent à créer de nouveaux liens et des processus durables, grâce à l'activation ou au renforcement des proximités et de leurs potentiels.
Fichier principal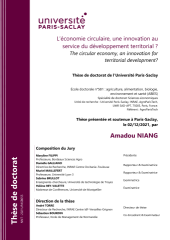 85750_NIANG_2021_archivage.pdf (2.95 Mo)
Télécharger le fichier
Origin : Version validated by the jury (STAR)