Study of the chemical and microstructural evolution during sintering of 18 carat gold alloy parts shaped by Metal Injection Moulding.
Étude de l'évolution chimique et microstructurale lors de la consolidation par frittage d'un alliage d'or 18 carats après mise en forme par Injection de Poudres Métalliques.
The shaping of 18 carat gold alloy parts by the MIM process greatly allows manufacturers of jewellery to imagine new more complex form without impacting the manufacturing costs while strongly reducing the recycling loop of the alloy compared to other manufacturing processes. The aim of this study is to be able to guarantee the microstructure of parts shaped by MIM to ensure their viability for application in the luxury industry. This work has highlighted two main problems, that have been studied in parallel and may lead to the rejection of 18 carats gold alloy parts made by MIM : these are an abnormal grain growth during sintering and the subsistence of non-sintered areas (NSA) after the treatment. Initially, the study of influence of well-known parameters in the literature (duration, temperature, heating ramp, sintering atmosphere) confirmed some classical trends. However, their optimization was not sufficient to solve all the problems. A thorough study of non-sintered areas type defects have led to the identification of a pollution localized in these zones. New parameters then could be highlighted, namely the morphology of the powder as well as the nature of the support employed during sintering. We could show the important role they play as for the occurrence of these defects. Finally, based on the results obtained, the study proposes an optimized cycle making possible to meet the criteria specified on the parts.
La mise en forme de pièces en alliage d'or 18 carats par le procédé MIM permet aux industriels de la joaillerie d'imaginer de nouveaux designs plus complexes sans impacter les couts de fabrication tout en réduisant fortement la boucle de recyclage de l'alliage par rapport à d'autres procédés. Le but de cette étude est de pouvoir garantir la microstructure des pièces mises en forme par MIM afin d'assurer leur viabilité pour des applications dans l'industrie du luxe. Ce travail a permis de mettre en évidence deux problèmes principaux, qui ont pu être étudiés en parallèle, susceptibles d'entrainer le rebut des pièces MIM en alliage d'or : il s'agit d'un grossissement anormal des grains au cours du frittage et de la subsistance à l'issue du traitement de zones non frittées (ZNFs). Dans un premier temps, l'étude de l'influence de paramètres bien connus (durée, température, rampe de chauffage, atmosphère de frittage) a permis de confirmer certaines tendances. Cependant leur optimisation n'a pas été suffisante pour résoudre la totalité des problèmes. Une étude approfondie des défauts de type zones non frittées a permis d'identifier une pollution au sein des pièces. De nouveaux paramètres ont alors pu être mis en évidence, à savoir la morphologie de la poudre ainsi que la nature du support employé durant le frittage. Nous avons pu montrer le rôle prépondérant qu'ils jouent quant à l'apparition des défauts. Dans un dernier temps, en s'appuyant sur les résultats obtenus, l'étude propose un cycle optimisé permettant de répondre aux critères visés sur les pièces.
Fichier principal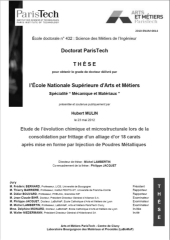 Thèse_H_Mulin_archivage.pdf (3.4 Mo)
Télécharger le fichier
Origin : Files produced by the author(s)