Design and development of a new titanium alloy family with high tensile strength and optimized biocompatibility for dental implantology.
Conception et développement d'une nouvelle famille d'alliages de titane à haute résistance mécanique et biocompatibilité optimisée pour l'implantologie dentaire.
This study deals with the development of new titanium alloys for dental implant applications and has been carried out in collaboration with the company Biotech Dental. The Ti-6Al-4V or Ti64, one of the top-selling material in this field, is more and more criticized due to its chemical composition, suspected of having harmful impacts on the patients (on account of Al and V). In order to find a substitute to this material, a new Ti-xZr-yO family, entirely biocompatible, is developed. Having seemingly a single-phase microstructure, these materials prove to be more complex at the atomic scale and present oxygen-rich nano-precipitates with a Ti6O-type crystal structure. The existence of this phase had been predicted by ab-initio calculations and some physical evidences had been detected but this work is the first one to expose some images of it, taken by transmission electron microscope. These observations combined to a synchrotron XRD study reveal a stabilising effect of the zirconium on the Ti6O phase. The increase in oxygen content seem, however, to induce a multiplication of the precipitates. Furthermore, the contribution of the latter to the TiZrO alloys hardening is found to be significant, mostly because of their strong interaction with the moving dislocations under a mechanical stress. The resulting mechanical properties overcome the strength/ductility trade-off, generally observed in most materials. Moreover, several grades of TiZrO alloys are considered as serious candidates to the replacement of Ti64 due to their healthier components and their superior mechanical properties. These results have led to a patent deposit to protect the composition range of the alloy family on the one hand and to a higher scale industrialisation of one alloy on the other, thus targeting a short-term new osseo-integrated implants launching.
Cette étude rapporte les résultats de travaux réalisés dans le cadre d'une thèse en collaboration avec l'entreprise Biotech Dental sur le développement de nouveaux alliages de titane à destination de l'implantologie dentaire. L'un des matériaux les plus commercialisés dans ce domaine, le Ti-6Al-4V ou TA6V, est de plus en plus critiqué du fait de sa composition, suspectée d'être nocive à long terme (présence d'Al et de V) pour les patients implantés. Pour le substituer, une nouvelle famille d'alliages reposant sur le système ternaire Ti-xZr-yO entièrement biocompatible, est développée. En apparence monophasés, ces matériaux se révèlent plus complexes à l'échelle atomique et présentent des nano-précipités ordonnés riches en oxygène de structure cristalline de type Ti6O. Bien que l'existence de ce type de phase ait été prédite par calcul ab-initio et que sa signature ait déjà étudiée par plusieurs méthodes d'analyse, elle a pu être imagée en microscopie électronique à transmission, pour la première fois, au cours de ces travaux. Ces observations combinées à une étude au synchrotron révèlent un effet stabilisateur du zirconium sur la phase Ti6O. L'augmentation de la teneur en oxygène, en revanche, semble induire une multiplication des précipités. Par ailleurs, la contribution de ces derniers au durcissement des alliages TiZrO se montre notable, notamment en raison de sa forte interaction avec les dislocations mobiles lors d'une sollicitation mécanique. Les propriétés mécaniques qui en résultent ont la particularité d'atteindre un compromis résistance/ductilité encore jamais vu dans des alliages de titane. En raison de leur composition plus saine et leurs propriétés mécaniques supérieures, plusieurs nuances peuvent être considérés comme de sérieux candidats au remplacement au TA6V. Ces résultats ont conduit d'une part au dépôt d'un brevet protégeant le domaine de compositions de cette famille d'alliages et d'autre part à l'industrialisation à grande échelle de l'une des nuances, dans une optique de développement rapide de nouveaux implants ostéo-intégrés, à court terme.
Fichier principal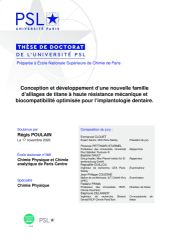 2020UPSLC026_archivage.pdf (5.39 Mo)
Télécharger le fichier
Origin : Version validated by the jury (STAR)