Benefits and limits of lean techniques towards efficient integration of collaborative robotics in assembly process : an experimental study
Contributions et limites des techniques lean vers l'intégrationde robotique collaborative dans les process d'assemblage : une approche expérimentale.
Collaborative robotics is now available as a manufacturing technologie for industry, and opens new perspectives for process design increased opportunities of human – robot interactions. Nevertheless, implementation results are yet questionnable when it comes to performance evaluation, which draws attention to successful implementation strategy of advanced manufacturing technologies. Besides, lean manufacturing, as a non technology-centered approach, is widely recognized as a sustainable performance enabler in most manufacturing environments, specially thanks to its ability to involve operators in continuous improvement activities. The purpose of this work is to assess the relevance of lean techniques in the scope of collaborative robot integration, in the very context of their usage, i.e. by using the skills developed by the operators. In this perpective, this research work relies on principle proposed by Design Based Research, mainly used in educational science. Therefore, we have designed an experimental protocol, and tested it with several groups of students to replicate the introduction of a collaborative robot into a manual assembly process. This approach generates guidelines in order to build strategy for collaborative robot implementation. Several case studies are tested, with various compelxity levels. Moreover, an optimisation algorithm has also been developed in order to enhance lean techniques, which were not originally designed to integrate such reconfigurable equipments as collaborative robots. An evaluation of this tool has been done in the context of cobot implementation process, along with improvement directions in order to enhance the overall methodology.
La robotique collaborative est une technologie disponible pour l'industrie, et ouvre de nouvelles perspectives de création de process via de nouvelles possibilités d'interaction homme-machine. Or les résultats d'implémentation peuvent apparaitre contrastés en terme de performance, ce qui pose le problème d'efficacité de l'implémentation de technologies innovantes dans les process de production. A contrario, le lean manufacturing, sans être une approche techno-centrée, est aujourd'hui reconnu comme une méthode efficace quand il s'agit de dégager une performance durable des process de production, notamment en mettant à contribution les acteurs du process dans des activités d'amélioration continue. L'objectif de ce travail est d'évaluer la pertinence de ces techniques issues du lean pour l'intégration de robotique collaborative, dans le contexte même de leur mise en œuvre, c'est-à-dire en s'appuyant sur les compétences développées par les opérateurs. Pour cela ce travail de recherche s'appuie sur les méthodes de recherche orientée conception, utilisées notamment en science de l'éducation. Nous avons donc développé et testé avec des groupes d'étudiants un protocole expérimental qui simule l'intégration de robot collaboratif dans un process d'assemblage initialement manuel. Cette démarche pourra ensuite être exploitée comme stratégie d'implémentation de robot collaboratif. Différents cas d'études de complexité variable sont testés. De plus, un algorithme d'optimisation a été spécifiquement développé afin de possiblement prendre le relai des techniques lean qui n'ont pas originellement été conçues pour intégrer des moyens aussi reconfigurables que les robots collaboratifs. Une évaluation de cet outil de résolution est réalisée, ainsi que des propositions d'évolution afin d'enrichir la méthode proposée.
Fichier principal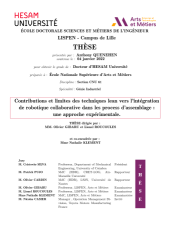 104600_QUENEHEN_2022_archivage.pdf (12.07 Mo)
Télécharger le fichier
Origin : Version validated by the jury (STAR)