Proposition of a new method for cross-subsidiary collaborative structures' design and management : Application to the creation of innovative offers for smart cities and territories
Proposition d'une méthode de conception et de gestion de structures collaboratives inter-filiales : Application à la création d'offres innovantes pour les territoires de demain.
Nowadays, due to the densification of population in urban areas, cities and territories are facing energy and environmental challenges. The smart city concept aspires to meet these challenges, relying on the use of digital technologies to improve operations across the city. The smart city concept finds its full potential in the interconnexion and interactivity of urban operations and services: transportation system, utilities and buildings, waste, water and energy management and crime detection for example. Therefore, companies must collaborate, through alliances, to offer complete solutions to public authorities.For diversified business groups – which have multiple subsidiaries operating in various industrial sectors – a better way to offer complete solutions to public authorities would be to develop internal synergies to combine its subsidiaries' resources and competencies. However, the literature lacks methods and tools to support business groups in the initiation of such synergies.Thus, the objective of this PhD thesis is to help business groups to initiate and manage internal collaborations for the development of complete and innovative solutions for nowadays' urban challenges. More precisely, this thesis answers the following question: how to optimize cross-subsidiary collaboration in diversified business groups? Based on existing contributions on multi-partner collaborations, we focused our work on the creation of cross-subsidiary collaborative structures.The main contribution of this work is the formalization of a cross-subsidiary collaborative structure's design and management method: the CROSS method. An action-research approach was used to develop this method, which is structured in two phases: the creation of a cross-subsidiary collaborative structure, through the alignment of the stakeholders on common goals, and the management of this structure. The contributions of this thesis are demonstrated through two experimentations of the CROSS method in a French diversified business group.
De nos jours, les villes et territoires sont confrontés aux enjeux de la transition énergétique et écologique dû à la concentration croissante de la population dans les zones urbaines. Pour répondre à ces défis, le concept de smart city repose sur l'utilisation des technologies du numérique pour repenser l'aménagement urbain et optimiser son fonctionnement. La smart city trouve pleinement son potentiel dans l'interconnexion des différentes fonctions de la ville ; mobilité et transport, infrastructures et bâtiments, efficacité énergétique, gestion de l'eau et des déchets ou encore la sécurité par exemple. Par conséquent, les entreprises doivent collaborer et s'organiser sous forme de consortium pour proposer des offres complètes et clés en main de villes et territoires intelligents aux collectivités publiques.Pour les groupes d'entreprises diversifiés, le développement de synergies internes leur permettrait de proposer ces offres de manière plus optimale, grâce à la combinaison des ressources et compétences de leurs filiales opérant dans divers secteurs d'activités. Cependant la littérature manque d'outils et méthodes permettant d'accompagner les groupes d'entreprises dans la mise en place de telles synergies.Ainsi, l'objectif de ces travaux de thèse est d'aider les groupes d'entreprises à initier et gérer des collaborations internes pour développer des offres complètes et innovantes. Cet objectif permet de répondre à la problématique de recherche suivante : comment optimiser les collaborations inter-filiales dans un groupe d'entreprises diversifié ? En se basant sur les contributions existantes sur les collaborations multipartenaires, notre proposition de réponse à cette problématique porte sur la création de structures de collaborations inter-filiales.L'apport principal de cette thèse est la formalisation d'une méthode de conception et de gestion de structures de collaboration inter-filiales pour favoriser l'innovation au sein de groupes d'entreprises diversifiés : la méthode CROSS. Une démarche de recherche-action a été adoptée pour développer cette méthode structurée en 2 grandes phases : la création d'une structure de collaboration inter-filiales, permettant d'aligner les parties prenantes sur des objectifs communs, et la gestion de cette structure, pour piloter les différentes missions de la structure. Les apports de ces travaux de recherche sont démontrés au travers de deux implémentations de la méthode CROSS pour des projets industriels concrets au sein d'un groupe d'entreprises diversifié français.
Fichier principal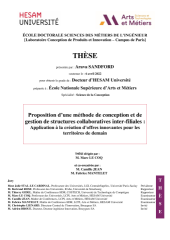 107434_SANDFORD_2022_archivage.pdf (12.03 Mo)
Télécharger le fichier
Origin : Version validated by the jury (STAR)