Investigation of ductile damage-necking interactions for the prediction of sheet metal formability.
Etude de l'interaction entre endommagement ductile et striction dans les tôles minces : application à la prédiction de la formabilité.
Sheet metal forming is undoubtedly a manufacturing process that has massive applications in numerous industrial sectors, such as automotive, aerospace, home appliance and food industry. Various defects may occur during the forming processes, such as wrinkling, and those inherent to material plastic instabilities, such as necking, which are responsible for limiting the formability. Therefore, controlling such plastic instabilities results in enhanced productivity and high quality of products during the manufacturing process. The concept of forming limit diagram (FLD) provides the limits to the deformations that sheet metals can withstand without the occurrence of undesirable defects. The current work contributes to the development of theoretical and numerical tools for the predictions of FLDs, which leads to a complementary approach to experimental tests. For this purpose, phenomenological Gurson-based damage constitutive models are considered in the present contribution. For the prediction of plastic instabilities, both diffuse and localized necking criteria, which are based on the bifurcation theory and multi-zone (initial imperfection) approach, have been implemented and compared to each other in terms of their order of prediction of critical necking strains. It has been found that the critical strains are lowered when the void size is increased for porous materials. In other words, decreasing the void size has a beneficial effect on the material formability. The predicted FLDs show that for all the considered constitutive models, the general bifurcation criterion is a lower bound to all the bifurcation criteria, in terms of necking prediction. As to the prediction of strain localization, the loss of ellipticity criterion provides an upper bound as compared to the initial imperfection approach and other bifurcation criteria.
La mise en forme des tôles minces est sans aucun doute l'un des procédés de fabrication les plus utilisés de nos jours dans divers secteurs industriels, tels que l'automobile, l'aérospatiale, l'électroménager et l'industrie alimentaire. Divers défauts dans la tôle peuvent apparaître durant sa mise en forme par déformation plastique, tels que le plissement, la striction ou la rupture. Plus précisément, ce travail de thèse se concentre sur l'étude de l'apparition des instabilités plastiques inhérentes au matériau lui-même, telles que la striction diffuse et la striction localisée, limitant ainsi sa formabilité. Le concept de courbes limites de formage (CLF) fournit les limites de déformations que les tôles peuvent supporter sans l'apparition de défauts indésirables. Ce présent travail contribue au développement d'outils théoriques et numériques pour la prédiction des CLF, ce qui permet de fournir une approche complémentaire aux essais expérimentaux à des fins de caractérisation de la formabilité des tôles minces. Pour cela, des modèles constitutifs phénoménologiques, basés sur le modèle original de Gurson, sont considérés dans la présente contribution. Concernant la prédiction des instabilités plastiques, plusieurs critères de striction diffuse et localisée, basés sur la théorie de la bifurcation et l'approche multi-zone (imperfection initiale), sont combinés aux modèles de comportement. Ces critères sont analysés et hiérarchisés en termes d'ordre de prédiction de la striction. Globalement, les résultats numériques montrent que, pour l'ensemble des lois de comportement considérées, le critère de bifurcation générale constitue une borne inférieure à tous les critères de bifurcation, en termes de prédiction de la striction. En ce qui concerne la prédiction de la striction localisée, le critère de perte d'ellipticité apparaît comme une borne supérieure à tous les critères de bifurcation, ainsi qu'à l'approche d'imperfection initiale.
Fichier principal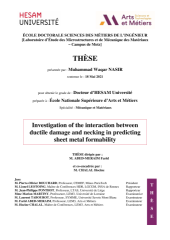 96512_NASIR_2021_archivage.pdf (3.45 Mo)
Télécharger le fichier
Origin : Version validated by the jury (STAR)