Performance biomechanical analysis in professional rugby union : lineout throwing optimization and concussion management.
Analyse biomécanique de la performance en rugby professionnel : optimisation du lancer en touche et prise en charge des commotions cérébrales.
The biomechanical analysis of the sport movement is a part of a dual perspective of performance optimization and injury prevention. The researches that was carried out during this thesis apply to rugby and center around two axes: the optimization of the lineout throwing performance and the concussion management improvement.50% of tries scored at international level come from a lineout throwing possession. Despite the strategic importance of this play phase, few biomechanical studies are present in the scientific literature. First, we proposed a throwing performance evaluation system, that allows to simultaneously quantify throwing accuracy and throwing timing. Subsequently, we conducted a series of experiments to better understand the biomechanical factors involved in this play phase. The first characterized the influence of dynamic postural stability on throwing accuracy over long distances, while the second identified the 3D kinematic parameters associated with throwing performance in players of different skills levels.The concussion study represents a growing interest in the rugby world, in particular because of the increase of its incidence observed over the last two decades. In addition, tackle is identified as the main cause of concussion and some factors are likely to increase the risk. The work produced in this second part of the thesis consisted in on the one hand, in evaluating the NeuroTracker interest (perceptual-cognitive tool) in the detection and the return to play monitoring of concussed players. On the other hand, an impact simulation device has been developed in order to reproduce "unanticipated" tackles under safe and reproducible conditions. Then, the biomechanical response to this type of impact was analyzed in a professional rugby players group, highlighting the influence of morphological characteristics specific to position on the concussion risk.All experiments were realized in the Racing 92 training center to promote the results transfer to the medical and sport staff.
L'analyse biomécanique du geste sportif s'inscrit dans une double perspective d'optimisation de la performance et de prévention des blessures. Les travaux qui ont été menés au cours de cette thèse s'appliquent au rugby et s'articulent autour de deux axes : l'optimisation de la performance du lancer en touche et l'amélioration de la prise en charge des commotions cérébrales.Le lancer en touche est à l'origine de 50% des essais qui sont marqués au niveau international et malgré l'importance stratégique de cette phase de jeu, peu d'études biomécaniques sont présentes dans la littérature scientifique. Dans un premier temps, nous avons proposé un dispositif d'évaluation de la performance du lancer qui permet de quantifier simultanément la précision et le timing du lancer. Par la suite, une série d'expérimentations a été réalisée afin de mieux comprendre les facteurs biomécaniques impliqués dans cette phase de jeu. La première a permis de caractériser l'influence de la stabilité posturale dynamique sur la précision du lancer sur de longues distances, tandis que la seconde a permis d'identifier les paramètres cinématiques 3D associés à la performance du lancer chez des joueurs de différents niveaux d'expertise.L'étude des commotions cérébrales revêt un intérêt croissant dans le monde du rugby, notamment en raison de la hausse de son incidence constatée lors des deux dernières décennies. De plus, le plaquage est identifié comme la principale cause de commotion cérébrale et certains facteurs sont susceptibles d'en augmenter le risque. Le travail réalisé dans cette seconde partie de thèse a consisté d'une part, à évaluer l'intérêt du NeuroTracker (outil d'évaluation perceptivo-cognitif) dans la détection et le suivi de retour au jeu des joueurs ayant subi une commotion cérébrale. D'autre part, un dispositif de simulation d'impact a été développé afin de reproduire des plaquages de type « non anticipés » dans des conditions sécuritaires et reproductibles. La réponse biomécanique à ce type d'impact a par la suite été analysée dans un groupe de rugbymen professionnels, mettant en évidence l'influence des caractéristiques morphologiques liées au poste sur le risque de commotion cérébrale.Toutes les expérimentations réalisées dans le cadre de cette thèse ont été effectuées au centre d'entraînement du Racing 92 afin de favoriser le transfert des résultats vers les équipes médicales et sportives.
Fichier principal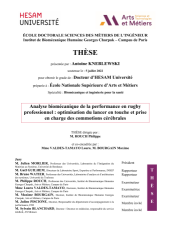 110110_KNEBLEWSKI_2022_archivage.pdf (6.18 Mo)
Télécharger le fichier
Origin : Version validated by the jury (STAR)