Contribution to the study of a proton conducting ceramic fuel cell P. C. F. C.
Contribution à l'étude et à la mise en forme d'une cellule de pile à combustible à conduction protonique P.C.F.C.
Hydrogen and fuel cells are now considered as a potential and credible alternative to the massive use of fossil fuels. In a French project led by EDF, a consortium focused its research on the achievement of a Proton Conducting Fuel Cell (P. C. F. C. ) operating at 600°C for residential use with BaCe0,9Y0,1O3-α as proton conductor. This study was led in this framework and aimed to understand the behaviour of this material during sintering and to assess tape casting and co-sintering as low cost process to shape anode-electrolyte half cells. BaCe0,9Y0,1O3-α can be easily prepared by soft chemistry. However, the refractory behaviour of this material imposes strong sintering parameters which led to its thermal decomposition and the degradation of its transport properties. We propose a model on this thermal damaging. The study of interactions between BaCe0,9Y0,1O3-α and NiO, generally used as nickel precursor in anode cermet, has been particularly complex, and highlighted both benefits (reduction of sintering temperature) and drawbacks (impaired transport properties) of Ni2+ diffusion. About shaping process, sedimentation of powders due to a lack of stability of slurries and interactions with NiO led to prohibitive deformations during co-sintering. As a consequence, a new metal supported approach based on the use of a nickel foam was developed, giving encouraging results.
La filière hydrogène et la pile à combustible apparaissent aujourd'hui comme une alternative crédible à l'utilisation massive des énergies fossiles. Dans le cadre d'un projet ANR piloté par EDF, un consortium s'est intéressé à la réalisation d'une cellule de type P. C. F. C. (Proton Conducting Fuel Cell) opérant à 600° avec BaCe0,9Y0,1O3-α comme électrolyte à conduction protonique. Cette thèse s'inscrit dans ce cadre, et présente l'objectif d'étudier le comportement de ce matériau au frittage et d'évaluer le co-coulage en bande et le co-frittage comme procédé de mise en forme bas coût pour la réalisation d'une demi-cellule anode-électrolyte de type anode support. Le composé BaCe0,9Y0,1O3-α peut être produit aisément par chimie douce. En revanche, le caractère réfractaire de ce matériau impose des paramètres de frittage très sévères entraînant sa dégradation, et l'altération de ses propriétés de transport. Il s'agit de l'endommagement thermique dont nous proposons un premier modèle. L'étude des interactions entre BaCe0,9Y0,1O3-α et NiO, utilisé comme précurseur de nickel dans les cermets d'anode, s'est avérée particulièrement complexe. Elle a permis de mettre en évidence à la fois des effets bénéfiques (agent de frittage) et néfastes (altération des propriétés de conductions) de la diffusion des cations Ni2+. Concernant la mise en forme, la sédimentation des poudres liée à l'instabilité des barbotines et les interactions avec NiO conduisent lors du co-frittage de la demi-cellule à des déformations rédhibitoires. Nous proposons donc une architecture alternative de type « métal support », fondée sur l'utilisation d'une mouse de nickel aux premiers résultats encourageants.
Fichier principal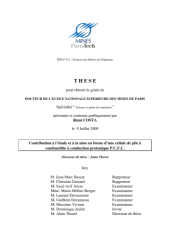 2009ENMP0024.pdf (28.03 Mo)
Télécharger le fichier
Origin : Files produced by the author(s)