Oxide nucleation and growth mechanisms of a molybdenum-containing stainless steel and the effect of pre-oxidation on passive film behaviour.
Mécanismes de germination et de croissance d'oxydes d'un acier inoxydable contenant du molybdène et effet de la pré-oxydation sur le comportement du film passif.
The work performed during this thesis has investigated the influence of the initial oxidation mechanisms on the passive film formed on a model, austenitic, single crystal stainless steel, FeCrNiMo(100). This was achieved using a combined surface science and electrochemical approach, using analytical techniques such as XPS, STM, ToF-SIMS and voltammetry. It was first important to analyse the oxide-free FeCrNiMo surface. High temperature annealing of the sample, necessary for surface preparation, results in the co-segregation of chromium and nitrogen. However, it was found that repeated cycles of sputtering and annealing result in a diminution of the relative amounts of chromium and nitrogen that reach the surface. This not only has a profound influence on the oxidation kinetics, as evidenced by XPS, but also on the composition of the oxide at the point where the oxide has stopped growing. The structure of the clean surface was investigated by STM and LEED, with the topmost surface plane displaying a (√2×√2)R45 reconstruction. Vacancy lines were found to run across the terraces in two directions, perpendicular to each other. The nucleation and growth of the oxide was followed by performing step-wise exposures (0–100 L) of oxygen at ultra-low pressures (10−8 mbar). The important role of nitrogen was highlighted during the nucleation phase (0–3 L), with the evolution of nitrogen-containing chromium species promoting chromium oxidation. Iron oxides are also found to form during the nucleation phase, whereas oxidation of metallic molybdenum is found to occur slightly later. As the oxide film becomes thicker, oxidation of iron becomes the dominant growth mode owed to the limited mobility of chromium atoms. Higher temperature promotes further oxide growth, resulting in a thicker, more iron-rich film. The native oxide was characterised by XPS and ToF-SIMS before being electrochemically passivated in 0.05 M H2SO4. Comparison with a sample that had been pre-oxidised at 250 °C at ultralow pressures of oxygen shows that pre-oxidation improves corrosion protection, notably at the active-passive transition. XPS results suggest that this is due to enhanced molybdenum enrichment of the passive film prior to anodic polarisation. The presence of 0.05 M chloride ions in the electrolyte does not influence the behaviour of the passive film that had previously been pre-oxidised under UHV conditions.
Le travail réalisé dans cette thèse a pour objet d'étudier l'influence des mécanismes initiaux d'oxydation sur le film passif formé à la surface d'un acier inoxydable austénitique modèle, FeCrNiMo(100). Cette étude a été réalisée en employant une approche combinée de science des surfaces et d'électrochimie, à l'aide de techniques analytiques telles que l'XPS, le STM, le ToF-SIMS et la voltampérométrie. Il était d'abord important d'analyser la surface FeCrNiMo sans oxyde. Le recuit à haute température de l'échantillon, nécessaire à la préparation de surface, entraîne la co-ségrégation du chrome et de l'azote. Cependant, des cycles répétés de bombardement et de recuit entraînent une diminution des quantités relatives de chrome et d'azote qui atteignent la surface. Ceci a un influence profonde, non seulement sur la cinétique d'oxydation, mais également sur la composition de l'oxyde au point où l'oxyde cesse de croître, comme observé par XPS. La structure de la surface propre a été étudiée par STM et LEED ; l'échantillon présente une surface reconstruite (√2×√2)R45. Des lignes de lacunes traversent les terrasses dans deux directions perpendiculaires l'une à l'autre. La germination et la croissance de l'oxyde ont été suivies par des expositions progressives (0–100 L) d'oxygène à ultra-faibles pressions (10−8 mbar). Le rôle important de l'azote a été mis en évidence lors de la phase de nucléation (0–3 L), avec l'évolution d'espèces de chrome contenant de l'azote favorisant l'oxydation du chrome. Des oxydes de fer sont également formés pendant la nucléation alors que l'oxydation du molybdène métallique est plus tardive. Au fur et à mesure que le film d'oxyde s'épaissit, l'oxydation du fer devient le mode de croissance dominant en raison de la mobilité limitée des atomes de chrome. Une température plus élevée favorise l'oxydation de l'échantillon, résultant en un film plus épais et plus riche en fer. L'oxyde natif a été caractérisé par XPS et ToF-SIMS avant d'être passivé électrochimiquement dans H2SO4 0,05 M. La comparaison avec un échantillon pré-oxydé à 250 °C à des pressions ultra-faibles d'oxygène montre que la préoxydation améliore la protection contre la corrosion, notamment à la transition entre les domaines actif et passif. Les résultats XPS suggèrent que ceci est dû au plus fort enrichissement en molybdène du film passif formé avant polarisation anodique. La présence de 0,05 M d'ions chlorure dans l'électrolyte n'a pas d'influence sur le comportement du film passif préalablement pré-oxydé en conditions UHV.
Fichier principal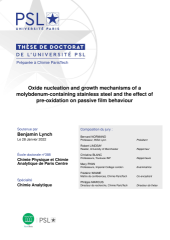 2022UPSLC001_archivage.pdf (6.63 Mo)
Télécharger le fichier
Origin : Version validated by the jury (STAR)