A general multi-scale identification strategy for the characterisation of the material behaviour of heterogeneous media.
Une stratégie d'identification multi-échelles générale pour la caractérisation du comportement des matériaux hétérogènes.
Composite materials are widely employed due to their outstanding properties. When dealing with the characterisation of their material behaviour, the main issues are related to the difficulty of characterising the material properties at each scale. The commonly used experimental destructive tests lead to expensive campaigns, which are not able to identify the full set of 3D elastic properties of the ply.Concerning the identification of the microscopic material properties, only few standard and non-standard tests can be performed, which show significant results dispersion. To overcome these limitations, a multi-scale identification strategy (MSIS) is developed in the presented thesis.Moreover, the characterisation of the non-linear behaviour of composite materials allows to describe the damping capability under dynamic loads. Their dynamic response is affected by the viscoelastic behaviour of the microconstituents and the viscoelastic characterisation is anything but trivial. From an experimental viewpoint, common techniques can provide information only at the mesoscopic scale, whilst they cannot be used to characterise the microscopic viscoelastic properties. For these reasons, the MSIS is extended to the viscoelastic characterisation of composite materials properties at each pertinent scale, by using non-destructive tests.Concerning the composite material properties, it is important to enhance the identification process by integrating the large amount of variability from manufacturing imperfections. Experimental methods for variability identification are only suited to evaluate mesoscopic uncertainty, without providing information about the constitutive phases. The huge number of required tests implies important costs to get results that are however affected by the experimental errors. Different probabilistic methods are found in literature, but they are not extended to the variability affecting the microscopic constituents. This aspect represents the main challenge concerning the uncertainty identification of composite structures, together with the need to use macroscopic non-destructive techniques. In order to face this problem, the proposed MSIS is extended to integrate the characterisation of the uncertainty of composite material properties, at each pertinent scale.
Les matériaux composites sont largement utilisés en raison de leurs propriétés exceptionnelles. S'agissant de la caractérisation de leur comportement matériel, les principaux problèmes sont liés à la difficulté de caractériser les propriétés matérielles à chaque échelle. Les tests destructifs expérimentaux utilisés conduisent à des campagnes qui ne permettent pas d'identifier l'ensemble des propriétés élastiques 3D du pli.En ce qui concerne l'identification microscopique des propriétés matériaux, seuls quelques tests standard et non standard sont effectués, lesquels montrent des dispersions de résultats significatives. Pour surmonter ces limitations, une stratégie d'identification multi-échelle (MSIS) est développée dans cette thèse.De plus, la caractérisation du comportement non linéaire des matériaux composites permet de décrire la capacité d'amortissement sous des charges dynamiques. La réponse dynamique est affectée par le comportement viscoélastique des phase microscopiques et la caractérisation viscoélastique est tout sauf triviale. Expérimentalement, les techniques courantes peuvent fournir des informations uniquement à l'échelle du pli. Pour cette raison, le MSIS est étendu à la caractérisation viscoélastique des propriétés des matériaux composites à chaque échelle, en utilisant des tests non destructifs.Concernant l'identification des propriétés des matériaux composites, il est important de caractériser la variabilité liée aux imperfections de fabrication. Les méthodes expérimentales d'identification de la variabilité ne peuvent pas évaluer l'incertitude des phases constitutives. Le grand nombre de tests requis implique des coûts importants pour obtenir des résultats qui sont toutefois affectés par les erreurs expérimentales. Différentes méthodes probabilistes sont décrites dans la littérature, qui ne permettent pas la caractérisation de la variabilité à l'échelle microscopique. Cet aspect représente le principal défi concernant l'identification de l'incertitude des structures composites, ainsi que la nécessité d'utiliser des techniques macroscopiques non destructives. Pour faire face à ce problème, le MSIS proposé est étendu pour intégrer la caractérisation de l'incertitude des propriétés des matériaux composites, à chaque échelle pertinente.
Fichier principal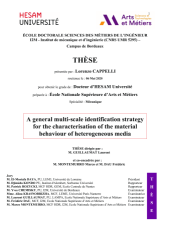 cappelli.pdf (8.87 Mo)
Télécharger le fichier
Origin : Version validated by the jury (STAR)