Hierarchical Emergency Guidance Optimization for reusable Tossback vehicle landing
Optimisation hiérarchique pour le guidage de secours pour un véhicule réutilisable "Tossback"
This thesis studies emergency Powered Descent Guidance (PDG) for reusable launchers, as an Optimal Control Problem in free final-time with constraints. For such a launcher, subject to strong aerodynamic effects and having limited maneuverability, we wish to perform "emergency" trajectory planning by relaxing some negotiable parameters, such as the incidence safety bound, the normal acceleration load, or the landing site location. To this end, a hierarchy between the parameters is introduced and an algorithm, Hierarchical Emergency Guidance Optimization (H.E.G.O.), is developed to enforce it. The algorithm consists of a finite sequence of negotiation Linear Programs, followed by a refinement Quadratic Program. The rocket is modeled by eight states, and three controls. The flight parameters are the initial conditions of the rocket states and other parameters, such as the Engine Specific Impulse and the wind profile. The user-defined hierarchy is conveyed via a co-lexicographic order. The methodology is theoretically studied. Among others, the Lipschitz-continuity of the guidance trajectory with respect to the input flight parameters is established. Extensive numerical results serve to quantify the performance and relevance of the methodology.
Cette thèse étudie le Guidage d'urgence en Descente Propulsée d'un lanceur réutilisable, sous la forme d'un problème de commande optimale en temps final libre sous contraintes. Pour ce lanceur, soumis à de forts effets aérodynamiques et disposant d'une manœuvrabilité limitée, on souhaite calculer en temps réel une trajectoire de "secours", en relâchant certains paramètres négociables, tels que la limite d'incidence, la limite d'accélération normale, ou encore le lieu d'atterrissage. A cet effet, nous introduisons une hiérarchie entre les paramètres et développons un algorithme, Optimisation Hiérarchique pour le Guidage d'Urgence (H.E.G.O.), pour la respecter strictement. L'algorithme consiste en une suite finie de Problèmes Linéaires de négociation, utilisée pour calculer les relaxations nécessaires, suivie d'un Problème Quadratique de raffinement. Le lanceur est modélisé par huit états et trois commandes. Les paramètres de vol sont les conditions initiales de la fusée, et d'autres paramètres tels que l'Impulsion Spécifique du moteur et le profil de vent. La hiérarchie définie par l'utilisateur est exprimée via un ordre co-lexicographique. La méthode proposée est analysée d'un point de vue théorique. Entre autres, la Lipschitz-continuité de la trajectoire re-planifiée vue comme une fonction des paramètres de vol est établie. Des résultats numériques permettent de quantifier la performance et la qualité de la méthode.
Fichier principal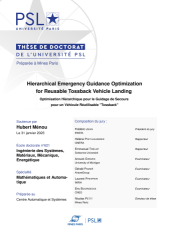 2023UPSLM004_archivage.pdf (13.76 Mo)
Télécharger le fichier
Origin : Version validated by the jury (STAR)