Study of the effects of the visual representation of a tactile sensation on the modulation of pain perception and embodiment in virtual reality.
Étude des effets de la représentation visuelle d'une sensation tactile sur la modulation de la perception douloureuse et de l'incarnation en réalité virtuelle.
Pain is the cause of more than 90% of medical consultations. The most commonly used therapeutic method to reduce pain is medication, although it is not without risk for patients as it can lead to side effects, dependency or overdose. To prevent these side effects, new non-invasive therapies are emerging such as virtual reality. In order to further investigate this approach, we studied during this thesis the effects of a visual representation of a tactile stimulation on pain thresholds and incarnation levels in humans. To do so, we modulated different variables of a visual representation, in virtual reality, and evaluated the incarnation levels of the participants in their avatar. In addition, we assessed their objective and subjective pain when electrical stimulation was delivered to their forearm. We investigated these effects when the visual representation was present or absent and synchronous or asynchronous to an electrical stimulation (Study 1); when it was magnified and localized in the body or out of the body (Study 2); and finally, when the point of view was in the first- or third-person perspective (Study 3). Our results showed that the presence of an enlarging visual representation decreased pain compared to no visual representation or presence without magnification. Similarly, when two visual representations were enlarged at two different rates, the greater magnification results in increased pain compared to a lower magnification. Finally, our results also showed that a participant's third-person perspective leads to an analgesic effect (decreased pain) compared to a first-person perspective. In contrast, the other studied variables of the visual representation had no impact on the pain components. Our results therefore suggest that modulating a visual representation in a virtual environment is an interesting and relevant approach to the management of pain in humans.
La douleur est à l'origine de plus de 90% des consultations médicales. La méthode thérapeutique la plus couramment utilisée pour diminuer la douleur est la voie médicamenteuse bien qu'elle ne s'avère pas être sans risque pour les patients puisqu'elle peut entraîner des effets secondaires, des dépendances ou des surdosages. Pour lutter contre ces effets indésirables, de nouvelles thérapies non invasives émergent telle que la réalité virtuelle. Afin d'approfondir cette approche, nous avons étudié au cours de cette thèse les effets d'une représentation visuelle d'une stimulation tactile sur les seuils douloureux et les niveaux d'incarnation chez l'Homme. Pour cela, nous avons modulé différentes variables d'une représentation visuelle, en réalité virtuelle et avons évalué les niveaux d'incarnation des participants dans leur avatar. De plus, nous avons évalué leur douleur objective et subjective lorsqu'une stimulation électrique était délivrée au niveau de leur avant-bras. Nous avons étudié ces effets lorsque la représentation visuelle était présente ou absente et synchrone ou asynchrone à une stimulation électrique (étude 1) ; lorsqu'elle était grossissante et localisée dans le corps ou hors du corps (étude 2) ; et enfin, lorsque le point de vue était à la première ou à la troisième personne (étude 3). Nos résultats ont montré que la présence d'une représentation visuelle grossissante diminuait la douleur par rapport à une absence de représentation visuelle ou à une présence sans grossissement. De même, lorsque deux représentations visuelles grossissent à deux vitesses différentes, le grossissement le plus important entraîne un effet algésique par rapport à un grossissement plus faible. Enfin, nos résultats ont également montré que le point de vue d'un participant à la troisième personne entraîne un effet analgésique (diminution de la douleur) par rapport à un point de vue à la première personne. En revanche, les autres variables étudiées de la représentation visuelle n'ont eu aucun impact sur les composantes de la douleur. Nos résultats suggèrent donc que la modulation d'une représentation visuelle dans un environnement virtuel est une approche intéressante et pertinente pour lutter contre la douleur chez l'Homme.
Fichier principal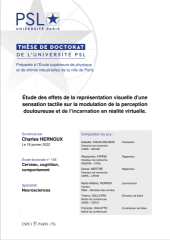 105145_HERNOUX_2022_archivage.pdf (4.99 Mo)
Télécharger le fichier
Origin : Version validated by the jury (STAR)